Jane Alexandre, PhD
Editor
is an independent scholar/artist who has been working in the NY dance world for more than 30 years as a performer, writer, teacher, choreographer, director, producer and administrator.  She is the author of Dance Leadership:  Theory into Practice (Palgrave Macmillan 2017); a Director at Evolve Dance Inc.; and has been involved in creating numerous dance projects of every description.  She holds a BSc from Queen's University (Canada), an MA from Antioch University (US), an MS from Pace University (US), and a PhD from Antioch University.
Julie B. Johnson, PhD
Consulting Editor | Issue 15 Guest Editor
A dance artist and educator based in Atlanta, Georgia, working in the intersections of creative practice, embodied research, and social justice. She serves as an Assistant Professor and Chair of the Department of Dance Performance & Choreography at Spelman College; Co-Founder/Consulting Editor of The Dancer-Citizen; and Founder/Artistic Director of Moving Our Stories.
She is a 2020-23 Partners for Change Artist with support from Alternate ROOTS and The Surdna Foundation; a 2021 Distinguished Fellow in-residence at the Hambidge Center made possible through a Georgia Council on the Arts Scholarship; and a member of the 2020-21 cohort of the Jacob's Pillow Curriculum in Motion Institute. In 2019, she received the Arbes Award and Black Spatial Relics Residency Award, and she was a Hughley Artist Fellow as part of the final 2018-2019 cohort. Julie earned a PhD in Dance Studies at Temple University's Boyer College of Music and Dance.
Erica Moshman
Managing Editor
A New York-based dance artist working as a performer, facilitator, project manager and teacher. Her current work is in inclusive dance practice and community work with a focus on disability. Erica is co-founder of Parable Dance and Artistic Director of Parable Dance NY She holds a BA in dance and anthropology from Connecticut College and an MA in dance anthropology from the University of Roehampton (UK).
Emily Metzner
Copy Editor
Emily is a sociocultural anthropologist whose interests lie at the nexus of American individualism, whiteness, and meanings of responsibility, and how those play out in practices ranging from addiction treatment to white allyship to sustainable consumption. Emily's editorial and advocacy work aims to intervene in the politics of publication and citation so that the scholarly canons better represent and reflect the global diversity of knowledge production and the plurality of ways of knowing. She holds a BA in Anthropology from New York University, an MPH from the City University of New York's School of Public Health, and a PhD in Sociocultural Anthropology from the University of Illinois at Urbana-Champaign, where she also completed a minor in Gender and Women's Studies.
Annie Tucker, PhD
Founding Editor
An interdisciplinary researcher, writer, and educator working at the various intersections of culture, personal experience, and the arts. Her interests include disability representation and response, the therapeutic application of the arts, and contemporary Indonesian cultural production. Her work has been recognized by support from the PEN America Center and the Southeast Asia Council of the Association for Asian Studies, among others. She recently received her PhD in Culture and Performance Studies from the Department of World Arts and Cultures| Dance at UCLA, where she also lectures for the Disability Studies Minor. 
Takiyah Nur Amin, Ph.D.
Takiyah Nur Amin, Ph.D. is a dance scholar, educator and academic success strategist. Her research focuses on 20th century American concert dance, African diaspora dance performance/aesthetics and pedagogical issues in dance studies. Dr. Amin has earned degrees from Temple University, Virginia Tech and the State University of New York at Buffalo, making her the first of their graduates to complete the Ph.D. in Dance Studies. She is a founding executive board member of the Collegium for African Diaspora Dance (CAADD), a board member for PoP Moves, the Vice President for Membership of the Dance Studies Association (DAS) and co-founder of the Dance Studies Associations' Working Group on Dismantling White Supremacy Culture in Dance Studies. In 2014, Dr. Amin launched Black Girl Brilliance to guide individuals and institutions striving for academic advancement and effectiveness. As an academic success strategist, Dr. Amin develops tailored solutions that assist individuals in upgrading their academic careers and supports institutions committed to transformational change in curriculum, policy and practice. Additionally, Dr. Amin directs the Academic Business and Branding BootCamp (in collaboration with Monica A. Coleman,) an In-depth, focused training program for "Blackademic" women who want to share their knowledge with the world. Currently Dr. Amin is Director of Diversity, Equity and Inclusion for the College of Architecture, Arts, and Design at Virginia Tech. 
Saroya Corbett
Saroya Corbett is a certified Dunham Technique instructor and a Gaius Charles Bolin Fellow in dance at Williams College. Additionally, Saroya has a Masters in Fine Arts degree in Dance from Temple University, and is a Ph.D. candidate in Culture and Performance at the University of California, Los Angeles. The recipient of numerous grants and awards, she participated in conferences and symposiums throughout the country, and her work is published in the Encyclopedia of African Cultural Heritage in North America (2015) and Jazz Dance: A History of The Roots and Branches (2014). She performed with several dance companies, including Flyground Dance Company, Kariamu & Company and CityDance Ensemble, as well as her own Saroya Corbett Dance Projects. Currently, she serves as the history and theory chair for the Institute for Dunham Technique Certification and on the steering committee for the Coalition Diasporan Scholars Moving (CDSM).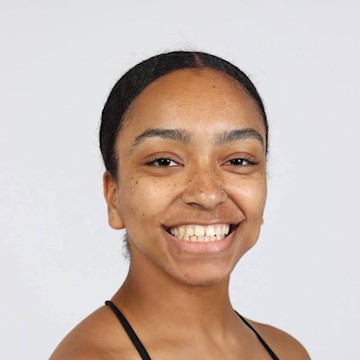 Christiana McLeod Horn
Project Assistant
Christiana "Chrissy" McLeod Horn is a freelance dance teacher, coach, performer, and arts administrator with a heart for social justice. Born and raised in Augusta, Georgia, she has trained intensively in ballet, modern, tap, jazz, West African dance forms, majorette dance, liturgical dance, tumbling, and stepping. McLeod Horn has performed for Spelman Dance Theater under the direction of Kathleen Wessel, Moving our Stories with Dr. Julie B. Johnson, T. Lang Dance, and Atlanta Dance and Music Academy. She serves as Project and Research Assistant for the Idle Crimes & Heavy Work initiative through Moving our Stories, LLC. She holds a bachelor's degree in Dance Performance and Choreography from Spelman College.