Jane Alexandre, PhD
Editor
is an independent scholar/artist who has been working in the NY dance world for more than 30 years as a performer, writer, teacher, choreographer, director, producer and administrator.  She is the author of Dance Leadership:  Theory into Practice (Palgrave Macmillan 2017); a Director at Evolve Dance Inc.; and has been involved in creating numerous dance projects of every description.  She holds a BSc from Queen's University (Canada), an MA from Antioch University (US), an MS from Pace University (US), and a PhD from Antioch University.
Julie B. Johnson, PhD
Editor
A dance artist and educator working in the intersections of creative practice, community interaction, African Diaspora movement aesthetics, and social justice. She is driven by the ways that dance can serve as a practice of inquiry, empathy, and empowerment. Julie is on faculty at Spelman College in the Department of Dance Performance & Choreography and the African Diaspora & the World Program. She curates Spelman's lecture series, Inside the Dancers' Studio, and is Founding Artistic Director of Moving Our Stories, LLC, exploring embodied memory and collective storytelling. She is a co-director of The Georgia Incarceration Project, a devised archives-to-performance collaboration between Spelman College, The University of Georgia, and incarcerated populations, bringing the history of incarceration and convict labor in Georgia to life through embodied archival research and performance. Julie is a 2018-19 Hughley Artist Fellow, and was the recipient of an Alternate ROOTS Artistic Assistance grant award in 2018. Julie earned a PhD in Dance at Temple University's Boyer College of Music and Dance, researching meanings and experiences of 'community' in a West African Dance class in Philadelphia.
Erica Moshman
Managing Editor
A London-based dance artist working as a performer, facilitator, project manager and choreographer. Her current work is in inclusive dance practice and community work with a focus on disability. Erica is on the Board of Directors of Evolve Dance Inc. and is also a founding member of Huge Moves, a collaborative performance company. She holds a BA in dance and anthropology from Connecticut College and an MA in dance anthropology from the University of Roehampton (UK).
Carly Knudson
Development Coordinator, MOVING THE MAP
Began her dance training in Boulder, Colorado with the City of Boulder's Expressions Dance Company. As a student, she studied Jazz, Modern, Contemporary, and Ballet and went on to become a co-director of the youth company for many years. Additionally, she taught and choreographed for various studios across Colorado and continues training in NYC. In 2011, Carly earned her MPA in Non-Profit Management & Policy Analysis from NYU's Wagner Graduate School of Public Service. Since she has worked with nationally known advocacy organizations including Rainforest Alliance and Philanthropiece, focusing on strategic growth and increasing organizational capacity. She is currently the Director of Development & Operations at Rivertown Dance Academy and serves on the Board of Directors for The Schiff Dance Collective.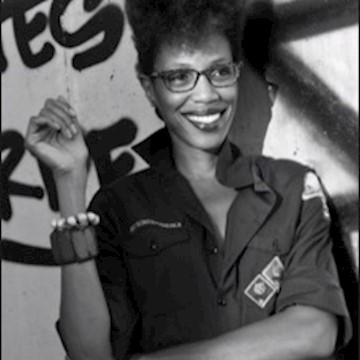 Kimberly Binns
Technical Director, MOVING THE MAP
is a multi-disciplinary artist working in digital media, architectural design, painting and, photogrpahy. Originally from Washington, D.C., she received her Bachelor of Fine Arts degree from Georgia State University and currently works and lives in Atlanta, Georgia.
Although her artistry spans across multiple platforms, her primary creative focus has shifted more towards her digital work. She has created videos and motion graphics projects for artists, art institutions, and corporate clients. Her most recent, and ongoing, project is an independent "micro- mentary"series entiltled, MAKER_, an exploration of the importance of artistic process.
Kimberly's creative output is not just relegated to the digital realm. Her lm photography has received recognition and awards from Atlanta Celebrates Photography and a series of her drawings and paintings were exhibited at the Museum of Contemporary Art of Georgia in 2015. In addition, she has worked as co-producer of live art events, served as stage manager for theatrical productions and worked as a location scout and line producer on independent lms.
Annie Tucker, PhD
Founding Editor
An interdisciplinary researcher, writer, and educator working at the various intersections of culture, personal experience, and the arts. Her interests include disability representation and response, the therapeutic application of the arts, and contemporary Indonesian cultural production. Her work has been recognized by support from the PEN America Center and the Southeast Asia Council of the Association for Asian Studies, among others. She recently received her PhD in Culture and Performance Studies from the Department of World Arts and Cultures| Dance at UCLA, where she also lectures for the Disability Studies Minor.