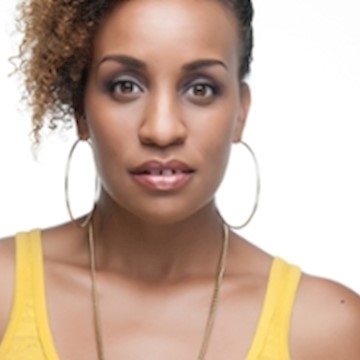 Dawn Marie Bazemore
Dawn Marie Bazemore is a performer, choreographer and teaching artist based out of Philadelphia. Dawn Marie has led classes at various universities including UC Irvine, Rutgers, Florida State , Howard, and Virginia Commonwealth, as well as conservatories and performing arts centers. She has also taught at The International Association of Blacks in Dance Conference, Jazz World Congress, MASS MoCA and the New Orleans Center for the Creative Arts and created work for companies such as Danco II and Berks Ballet Theater. From 1998-2009 Dawn Marie served as a principal dancer with PHILADANCO, where she worked with esteemed choreographers such as Bebe Miller, Alonzo King, and Jawole Willa Jo Zollar. Dawn Marie has also danced with Waheed Works, the Tania Isaac Dance Project, The Fred Benjamin Dance Company, Deeply Rooted Dance Productions, and the first national tour of the Color Purple. She has been featured in various regional musical theater productions and the film Dancing in the Light. Dawn Marie studied at the Joffrey Ballet School, LaGuardia High School, Alvin Ailey and Dance Theater of Harlem. She earned a BFA from SUNY Purchase and a MFA from Hollins University.
Bernard J. Brown
Bernard J. Brown is a Los Angeles based artist, focusing on choreography, instruction and performance. He is currently seeking his MFA from the Department of World Arts and Cultures|Dance at UCLA. His work catalyses change through dance; dance sparks dialogue, which in turn inspires action, the action being the change within our communities. Mr. Brown is a graduate of Idyllwild Arts Academy and SUNY Purchase and has performed with TU Dance, Shapiro & Smith Dance, Doug Elkins Dance Company and Lula Washington Dance Theatre. He has been seen in Penumbra Theater's "Black Nativity," Donald Byrd's "Harlem Nutcracker" and on the Daytime Emmy's. He has taught dance at NYU's Tisch School of the Arts, University of Minnesota Twin Cities, University of Missouri St. Louis and at UCLA. Mr. Brown's choreography has been shown in New York, Minneapolis and most recently at Royce Hall in Los Angeles. The LA Times calls him " incomparable."
Nick Cave
Nick Cave is a Messenger, Artist and Educator working between the visual and performing arts through a wide range of mediums inclusive of sculpture, installation, video, sound and performance. He has been described as a Renaissance artist and says of himself "I have found my middle and now ... working toward what I am leaving behind."
Christine Griffin Goehring
Goehring has taught and performed creative dance based on the principles of free movement expression devised by Barbara Mettler for over 40 years. She studied and worked with Mettler through the 1970s and early 1980s. Goehring was Mettler's teaching assistant for several of those years and was a member of Mettler's professional performance groups. Goehring received a master's degree in Dance Movement Therapy from Antioch New England Graduate School in 1993. She established Green Mountain Creative Dance Center in Vermont in 1998, where she taught people of all ages and abilities. Goehring is a founding member and past president of the International Association for Creative Dance. She has worked in partnership with the Barbara Mettler Trust on several projects including the Northeast Performance Project in 2009, The Summer Dance Lab in 2010, The Bicycle Dance Troupe in 2011, and Summer Company in 2013. She co-teaches Mettler Studios' annual Creative Dance Teacher Training Workshop. Currently Goehring is an adjunct assistant professor of dance at Hampshire College in Amherst, Massachusetts where she teaches Group Improvisation: An Introduction to Creative Dance.
Jason Hoch
Jason Hoch is the Chief Content Officer at HowStuffWorks, which explains how the world really works.  Documenting the amazing world of dance and performance art from Nick Cave and T. Lang was completely new to us, and we feel representing this slice of our culture is critically important to share with our millions of fans.
Rebecca Kelly
Rebecca Kelly is a freelance choreographer and Artistic Director of Rebecca Kelly Ballet. Born in Princeton, NJ, the daughter of a career diplomat, Rebecca Kelly was raised in London, Khartoum, Sudan, Brussels, and Washington, DC. Her formative dance training was at the Washington School of Ballet. She graduated cum laude from Bryn Mawr College with a B.A. in History of Oriental Religion. In 1979 she founded Rebecca Kelly Dance, with her husband and modern dance partner Craig Brashear. She has since created over 65 contemporary and classical works for her own and other companies, including Ballet Pacifica, The Carlisle Project, and Boston Ballet II. She has staged Nutcracker variations, and created repertory for the North Country Ballet Ensemble of Plattsburgh. RKB began its long association with the Adirondack region in 1986. Invited as Artist-in-Residence to the Lake Placid Center for the Arts in upstate New York, the Company has been in residence every summer since, pioneering and developed extensive dance programs for rural youth throughout the region.
T. Lang
Founder and Artistic Director of T. Lang Dance, T. Lang is dedicated to exposing emerging communities to the creative impact and genius of dance. Lang earned her BFA in performance and choreography from the University of Illinois (Urbana-Champaign) and her MFA in performance and choreography from NYU's Tisch School of the Arts. In the early part of her career, Lang danced with the Metropolitan Opera Ballet and Marlies Yearby's Movin Spirit Dance Theater. In 2008, Lang relocated T. Lang Dance from New York City to Atlanta, where she continues to develop, direct, and produce high-impact multi-media work that blends traditional and experimental contemporary movement in collaboration with playwrights, choreographers, composers, engineers, and musicians of note. As an Assistant Professor in Dance and Director of Spelman Dance Theatre at Spelman College, a faculty member at The American Dance Festival, and the founder of SWEATSHOP, the Atlanta summer dance intensive, Lang stays engaged with the next generation of artists.
Allison Wyper
Allison Wyper is an interdisciplinary performance artist and founder of Rhizomatic Arts, which provides professional services, training, and community for independent artists and creatives. Rhizomatic Studio, the creative wing of Rhizomatic Arts, produces collaboratively-oriented performances and workshops in public and private spaces.
She has taught, produced, and facilitated workshops on experimental performance, professional/creative practice, and collaborative processes at 18th Street Arts Center, Pieter Performance Space, Silverlake Independent JCC, Women's Center for Creative Work, UCLA, USC, CalArts, ArtCenter College of Design, CSUN, UCR, Space 4 Art San Diego, Emerson College, the Zero1 Biennial, the Hemispheric Institute Encuentro in Montreal, Contemporary Calgary, and the Center for Interdisciplinary Arts Studios in Perth, Australia.
Her performance work has been seen across the US, Canada, Australia, and Germany, and she has been published by The Dancer-Citizen, Itch, Platform, The Present Tense, and Emergency Index. She has an MFA in Dance from UCLA, and a BA in Theatre Studies from Emerson College. rhizomaticarts.com