Nadra Assaf
Dr. Nadra Majeed Assaf is Associate Professor of Dance at the Lebanese American University (LAU). She is the founder/artistic director of Al-Sarab Dance Foundation which houses both Al-Sarab Dance School and Al-Sarab Dance Company. She is best known for her work in dance in the Middle East as she has lived in Lebanon for the past 30+years. She is creator and organizer of the International Dance Day Festival in Lebanon (est. 2011). In 2016, she started an A-typical collaboration with American dancer, professor, and choreographer Heather Harrington. This collaboration has led to numerous performances and conferences in Sweden, Beirut, Malta, San Diego, CA, and Geneva, New York. She is currently a member of the NDEO (National Dance Education Organization) 2021-2023 Research Committee. Assaf is an advocate for the arts in Lebanon and the Region. Her academic articles and chapters have been published by: Choreographic Practices, Research in Dance Education, Dancer Citizen, Triarchy Press, Routledge, and Beauty Demands.
Lisa Green-Cudek
Lisa Green-Cudek is a writer and dancer. She teaches courses in dance history, aesthetics, technique, and creative process at Loyola University of Maryland, and teaches ballet at Johns Hopkins University. She is on the faculty of Peabody Preparatory Dance where she teaches students of all ages and is the resident dance historian.
Throughout her career, Green-Cudek has been committed to cultivating dance in communities as a medium for exploring ideas and histories, identities and relationships. She has been awarded funding for this work from The Pennsylvania Humanities Council, The Maryland Humanities Council, The Peabody Institute of Johns Hopkins University, and the Center for the Humanities at Loyola University of Maryland.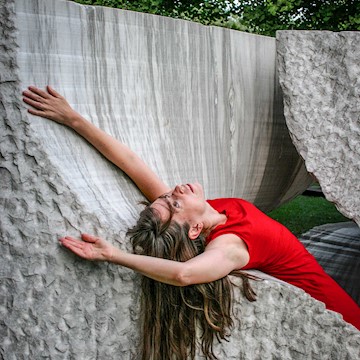 Heather Harrington
Heather Harrington graduated with a BA in Psychology from Boston University and her MFA from the University of Wisconsin-Milwaukee. She has been on faculty at Kean University, Seton Hall University, and Drew University. Harrington danced with the Doris Humphrey Repertory Company, the Martha Graham Ensemble, the Pearl Lang Dance Theater, and the Bella Lewitzky Dance Company. She ran her own modern dance company in New York City performing nationally and internationally. Being drawn to movement in the public space has inspired her to create site-specific work, from creating a piece on the steps of the Federal Hall Memorial on Wall Street to staging a gun violence protest in Newark, NJ. She has been a resident choreographer for The Yard's Bessie Schonberg Choreographers and Dancers Residency, Kaatsbaan International Dance Center, and the Hotel Pupik series in Austria. As a figure skater, Harrington has performed, taught, and choreographed for The Ice Theater of New York, and coached for Sky Rink, NYC and Figure Skating in Harlem. Her artistic and scholarly collaboration with dance artist and educator Nadra Assaf from Lebanon has led to performances and conferences in Sweden, Beirut, Malta, UK, San Diego, CA, and Geneva, New York. Her scholarship has been published by The Dancer-Citizen, Research in Dance Education, Dance Research Journal, Nordic Journal of Dance, Journal of Dance Education, Beauty Demands, and Dance Education in Practice. Assaf and Harrington will have a joint article soon to be published by Choreographic Practices.
Riot Mueller
riot mueller is a second generation (dad is gay!) queer feminist artist and theologian currently training + performing with LAVA (an nyc based feminist acrobatic dance company) and creating images with other queer feminist bodies.  Riot has trained with double edge theater co, mondo bizarro, and practices kundalini yoga, breath work and running 3 miles every day to absorb vitamin D.  my joy and work is centered in site specific ensemble theater productions and liturgy production driven by the question of "why do we want us to do this? why does a higher power want us to do this? why here? why now? for whom?" and then responding to those questions through performance and movement art. More reflection and images can be found at @gayinternetpastor
Cathy Nicoli
Cathy Nicoli is Associate Professor of Dance / Performance Studies at Roger Williams University – where she directs the program, and its Dancing in London semester abroad. She is a Certified Movement Analyst and Bartenieff Fundamentals Practitioner, and earned her MFA on a teaching fellowship from Smith College.
Cathy has received 2 RI State Council for the Arts Choreography Fellowships and a RI Foundation Teaching Artist Scholarship. Her choreography has been featured in a variety of venues – from London's National Theatre, to Stolkholm's Ballet Academy, from a Ben Folds Five music video in the desert, to under a grand piano in the woods of Maine. Her screendance credits include Chris Lewis Smith's (UK) To Be Watched While Eating an Orange, which received the Jury's Selection Award at the 2018 Courant 3D Film Festival (FR).
Cathy taught at Keene State College and the 5 College Dance Department for years. Hampshire College awarded her their Project Pericles Civic Engagement Course Development Award based on the social impact and civic engagement of her course Moving Memoirs: Composing Yourself with Choreography. Cathy's interests in developmental movement, sustainability, and multi-generational creative communities led her to teach a Parkinson's movement collective at Cheshire Medical Center (NH), and to directing a children's day camp at Bearnstow, an arts retreat dedicated to the preservation and appreciation of nature (ME).
Having experienced first-hand the positive influence dance can have on individuals, families, and communities; Cathy aims to train adaptable, healthy, and distinct dancers – while also bridging dance to social justice and equity initiatives.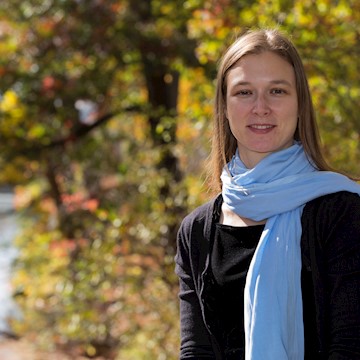 Candice Salyers
Candice Salyers is a dancer and multi-disciplinary artist whose work integrates text, poetic images, and movement to create both intimate and large-scale installations and performances. Her dance work has been shown in landscapes and stages in the US, UK, Estonia, Ireland, Bulgaria, Morocco, and the Czech Republic and has been commissioned and supported by residencies across the US, including at Acadia National Park, as well as in Spain, Armenia, Canada, and Hungary. She was one of 10 US artists selected to participate in an international exchange between National Dance Project (US) and Culture Ireland (IE). Her PhD. work explored intersections of dance performance, feminist theories, and environmental philosophy, and she also holds an MFA and MDiv. Her recent solo performance project explores different physical and conceptual perspectives on female sainthood and includes dances created for both landscape and stage spaces. Currently, she is an Assistant Professor of Dance at The University of Southern Mississippi. Candice was awarded a 2016 Choreographic Fellowship from the Massachusetts Cultural Council for her choreographic and performance work and a 2017 Postdoctoral Fellowship from the American Association of University Women for her writing. She was recently one of the first dancers invited to speak at the Society for European Philosophy, and her publications include contributions to Tanz, Bewegung, und Spiritualitat, and the Journal of Performance and Mindfulness.