Abstract:
This article pays homage to the genealogy of Wilhelmina Taylor, luminary, choreographer, and dance educator, whose practice and pedagogy insist that we honor the cultural lineages and creative practices of Black Americans while reclaiming our cultural legacies to West African dance in the diaspora. Part of a renaissance generation that advanced the embrace of ancestral knowledge through West African drum and dance, Taylor's biographical narrative provides a window into the cultural energy generated by the Black Arts Movement in New York City. Her story reveals the prolific significance of West African dance education in the United States. Together, Taylor and I used a qualitative research methodology primarily built on informal conversations, which gave Taylor an opportunity to impart an oral history. Testimonies from Taylor's mentees who have been touched by her profound legacy as an artist and educator are also included. I also draw from my own fieldwork and research on West African dance in Guinea and Senegal and in the United States, and my experience as her student.
Ancestral memory is engraved in our dance.
 -Halifu Osumare, 2018
"We are the African American contingency and we do West African dance differently," said Wilhelmina Taylor, whose practice and pedagogy insist that we honor the cultural lineages and creative practices of Black Americans. Wilhelmina Taylor (aka Mama Taylor) is a national treasure, a wellspring of West African dance history in America, and a luminary of West African dance for several reasons. She danced with trailblazing Black/African dance companies such as the International African American Ballet and the Chuck Davis Company in New York City (NYC). Taylor was part of a renaissance generation that advanced the embrace of ancestral knowledge through West African drum and dance. She also has an impressive resume of teaching in public and private schools in NYC. Her service to dance artistry and education in the city is prolific. Not often enough do we recognize the African American artists who have contributed to the dissemination of West African dance and drum. 
            I asked Taylor about why African Americans frequently get overshadowed in West African circuits considering how instrumental Black folk have been to the embrace, interest, and support of the culture in the United States (Watson 2008; Gittens 2012; Cruz Banks 2010, 2012). She told me:
We did this to ourselves. When artists from the [African] continent migrated to NYC, we opened the door for them to come teach and share their culture. We put the artists on pedestals, and that's where we went wrong. When their popularity grew, and they started making money, we got pushed to the side.
Taylor speaks to one of several grievances shared by many African Americans in African dance, who face issues such as dance classes that have become predominantly populated by white pupils, dance camps that price many Black people out, and teachers that treat American Black folk like customers, not cousins. Additionally, the skills and efforts of Black teachers who are not "real Africans" (that is to say, born on the continent) often go unrecognized. They do not receive the teaching accolades and praise received by African artists, no matter how good they are. Taylor asserts, "while we were not raised in Africa, those dances belong to us, they are a part of our history, and we need to own that."
            This realization gave Mama Taylor's career gravity, and inspired the establishment of her own company, artistic style, and pedagogy. Taylor's story is a window into Black/African diaspora history and illumines a journey of cultural reclamation of West African dance in the diaspora. Her career as a West African dance artist-educator was ignited after she traveled to Senegal and Gambia in 1984. The visit solidified a commitment to Jembe, Kutiro, and Sabar cultural dance traditions of the region. However, she also celebrates the uniquely African American renditions of West African drum and dance. The New York Times called Wilhelmina Taylor's choreography a blend of "the traditions of Guinea with the streets of New York" (Dunning 1992). 
            The focus of this article is to highlight the genealogy of Wilhelmina Taylor and the cultural reclamation work she did through dance performance and education. Taylor's biographical narrative provides a window into the cultural energy generated by the Black Arts Movement in NYC. Her artistic and teaching philosophy honors her identity as a daughter of an African American diaspora while recovering her indigenous affiliation to Africa.
I first met Taylor at the summer dance intensive curated by Ron Brown at Skidmore College in 2004. In a master class workshop, she taught the West African dance and rhythm Manjani, a Malinke dance that is historically associated with rite of passage for girls. She taught with tough love, intense discipline, and razor-sharp focus, along with diligence about movement technique and musicality. She stood out as one of the more seasoned teachers. Taylor cultivated a sense of community vibe and knew how to get folks laughing. I was a bit intimidated but also completely thrilled. She even managed to make me feel seen and like I mattered in the class. Mama Taylor and I stayed in touch over the years mostly through letters, and when I asked her to collaborate on this piece, she agreed.
            We use a qualitative research methodology that primarily draws from informal conversations. These informal conversations gave Taylor an opportunity to impart an oral history. At the center of this work are the stories and memories that she shared with me. Testimonies from Taylor's mentees who have been touched by her profound legacy as an artist and educator are also included as part of the research. I also draw from my own fieldwork and research on West African dance in Guinea and Senegal and in the United States, including a thorough review of the relevant literature. Taylor assisted with editing and, in particular, fact-checking.
            The article is organized in three sections. First, there is an overview of Taylor's dance genealogy that includes how family life, a trip to Senegal, and the New York dance scene inspired her career. In the second section, I detail her dance philosophy. As both a changemaker and someone who advances African cultural practices, she strives to balance both respect for tradition and evolution1 . We also hear from her mentees who take stock of the unique influence Taylor has made on their professional trajectories. In the final section, I discuss the implications of her story on the history of West African dance education.


FROM HARLEM TO DAKAR TO CASAMANCE TO BROOKLYN: A DANCE GENEALOGY
Mama Taylor was born in Harlem, New York, an epicenter of Black/African dance.  She grew up in the Bronx with her parents (now deceased), Vera and William Wright, and two siblings. Her father's family came from Charlotte, South Carolina. Dance was a family affair, as is true for many Black folks. Her interest in dance was sparked when her father took the family to lodge dances. There she learned to waltz, Lindy, two-step, and more. These experiences whet her appetite for dance. When she was 15 years old, Taylor started taking a wide range of formal and community dance classes. Taylor was exposed to South African dance as well as to tap, modern, and more. Eventually, her dear friend Hazel Starks brough her to the Sounds of Motion, a dance studio located in Brooklyn where African dance companies rehearsed. There she was introduced to West African dance teachers and drummers. Starks and Taylor danced together with the Ladji Camara Drum and Dance Company2 . Taylor developed deep admiration for Starks, describing her as an impressive dancer who could do anything. 
Wilhelmina Taylor; Photograph: Leonard King
Being immersed in the bustling performing arts landscape of NYC was formative for Taylor. Her pathway in dance was informed by the local communities and their global connections. Her life's work is a distillation of global Black and African networks, and a story of West African dance being reabsorbed into Black American communities starting in the 1950s. 
            When Taylor met Josephine Zambo, a member of the National Ballet of Senegal, in New York, Zambo invited her and Starks to visit Senegal. Taylor stayed with the Zambo family during her visit, who treated her, she said, "like a queen." She recalls how wonderful it was to be greeted at the Dakar airport with drum and dance. Zambo's brother, Italo Zambo, was artistic director of the National Ballet of Senegal at the time. During her visit, she attended rehearsals and a performance at the Daniel Sorano Theater. 
            Mama Taylor was in awe of the land, ocean, people, and music in Senegal. She found the red sand stunning, the Sabar museum extremely interesting, and loved the sound of the majestic African harp, the Kora. Taylor has fond memories of her visit to the Jolaland region also known as Casamance. She noticed the gregarious nature of people there, and paid attention to daily rituals such as hair braiding and cooking outside, as well as special ceremonies such as a naming ceremony she attended that involved water drumming. The trip, full of adventure3  and new encounters, made lasting impressions on Taylor.
            These experiences in West Africa deeply inspired her to specialize in the dances of the region. Her portfolio as an artist and educator includes a diverse repertoire of dance from the region and beyond that includes Sabar, Kutiro, Jembe, and Congolese. The cultural immersion and observation also gave her cultural insight and inspired her professional development in dance. Hence, she received and accepted invitations to join dance companies such as The International African American Ballet, Malaki Ma Congo, Sabar Ak Ru Afrique, Drum Song and the Chuck Davis Company. In these companies, she mixed with legendary artists such as Chuck Davis, Olukosè Wiles, Ronda Mormon, Obara Wali Rahman, Chief Bey, Amaniyea Payne, and others. Taylor worked with an incredible collegium of artists and cultural engineers.
            The establishment of DanceAfrica in 1977 in New York was a turning point for the cultural investment in African dance and music in the United States. "I was in the audience for the first DanceAfrica and it was wonderful," Taylor told me. Gittens (2012) would call the event emblematic of the Black arts renaissance and African liberation movements of the 1960s.  DanceAfrica brought Black artists together to showcase the "collective energy" of dance companies, choreographers, musicians, and dancers from all over the African diaspora. The mission of the event was to heighten awareness of African culture and its diaspora through dance and other arts. DanceAfrica had a Black political agenda that had to do with rebuilding cognitive and cultural association with Mama Africa that was maimed by the Atlantic slave trade, American racism, and cultural erasure. Taylor's work as a dance educator was deeply informed by the grassroots educational activism of the time. She became a part of the cultural constellation of West African dance in New York.
            A significant creative architect of this festival was Baba Chuck Davis4 (1937-2017), the artistic director of DanceAfrica. He was described as a beacon of cultural information and energized Black folks' participation in African dance. Davis began his career in Dunham technique and worked with Pearl Primus, and musicians Olantunji and Chief Bey. As a dance researcher, choreographer, and creative producer, he traveled to West Africa numerous times to deepen his understanding of the cultural context of the dances, and to train in dance. He founded the Chuck Davis Company in 1968 in New York, an acclaimed dance company of its time (Heard and Mussa 2004; Berry and Nance 2012). He also initiated community outreach programs that included a partnership with the New York City of Board of Education in 1976. Davis was an influential teacher for Taylor.
            Taylor attended classes with Davis at the Church of the Masters/South Bronx Action Theater in NYC. She said his professionalism made an impression. He was called a "task master." Davis "was a stickler for being on time, rigorous rehearsal practice, and achieving choreographic clarity," Taylor noted. Davis knew how to train strong dancers. Taylor went on to say, "I respected the way he kept kids off the streets." He would recruit dancers on the basketball courts, for example. Taylor described Davis as "a real community person." Taylor danced with the Chuck Davis Dance Company and she performed with them at DanceAfrica. She also performed with other companies and eventually was invited to bring her own company, A Touch of Folklore and More, to perform at the esteemed event.
DanceAfrica informed Taylor's career and introduced her to a whole network of African American artists specializing in diverse African dances. She met creatives such as Ferne Caulker, DeAma Battle, and Alyo Tolbert at the festival. Impressive artists, including Taylor herself, were on a mission of cultural reparation and liberation through dance and dance teaching. Her generation, in her words, "really studied the culture and was interested in the cultural aspects of the dances. We wanted to know the people and about the instruments." Mama Taylor was part of an era of dancers who strove to elevate African heritage and bring the culture to community centers, proscenium stages, dance studios, and public and private schools. However, like other Black artists, Taylor often added elements from her own culture to the traditional dance and drum. In her words, "I would not call us traditionalists, we are change-makers.[…] I had a calling to choreograph and to make changes."
This calling was a major impetus for why Taylor formed her community company called A Touch of Folklore and More (1979-1997). The company launched at the Melrose Community Center, located within the New York City Housing Authority's Melrose Houses in the South Bronx (known locally as "the Projects"). The group performed African dances. Taylor was eager to experiment and create something different. In 1981, she added a young people's company, which were uncommon at the time. The youth company performed African dance, tap, and modern forms.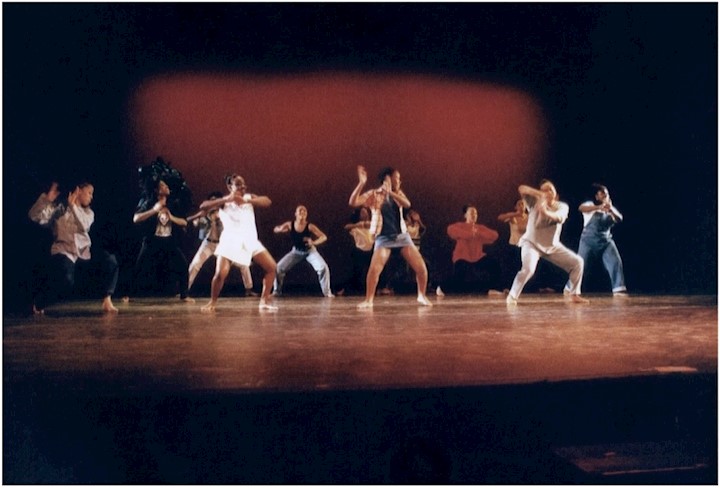 A Touch of Folklore and More
The mission of the youth company was to address the fact that kids were not learning much about African culture. I wanted to give the kids a sense of self-worth and connection to their culture. Our performances were all geared towards building community. As a director, I liked to offer presentations that were clean and crisp; I was also nitpicky about footwork, costuming, and song pronunciation.
People complimented the youth on their dignity, enthusiasm, use of audience participation, and creativity with props. Running the company polished Taylor's skills as a director, choreographer, and dance educator. From there, she went on to work with other companies such as Ron Brown's Evidence Dance Company, Charles Moore Dance Theater, KowTeff African Dance Co., and others. And she went on to teach in many private and public schools and organizations in New York, including the Professional School for the Arts, Creative Outlet Dance Theater of Brooklyn, Ifetayo Cultural Arts, Mind Builders Bronx, Public School 6 in Brooklyn, Public Schools 1, 18, and 29 in the Bronx, Public School 197 in Harlem, Frederick Douglass Academy, Project Arts and more. As an artist educator in NYC, Taylor understood West African dance to be critical education for building self-esteem, self-respect, and reinforcing the discipline and reassurance that contributes to the academic, cognitive, social and physical development of children (Taylor 2010).
Ifetayo Cultural Arts Academy
RESPECT FOR TRADITION AND BLACK CREATIVE EVOLUTION: A TEACHING PHILOSOPHY AND LEGACY
Through company performances and teaching work, Taylor honored African traditions. One of her favorite dances is named Lamba. This dance originates from the Mande empire, and is often called the Jelidon, or dance of the griots – the oral historians. Jelis are the keepers of classical family, tribal, and social history.  Music and dance of the Jeli (the Jelidon) is part of a Mande institution that dates to antiquity (Charry 2000).  Lamba is often performed in ceremonies such as marriages in Mali, Senegal, Guinea, Gambia, and Burkina Faso and other locations where Mande people reside. Taylor said, "I love the gracefulness, the beauty, and the elegance." Particularly striking for Taylor is the use of the neck in the dance and the dress worn. "I require my dancers to learn to dance in a Bouba," Taylor asserts. "When I teach Lamba, I am a stickler when it comes to the use of the grand Bouba, so my kids knew how to dance in the fabric." The Bouba is a dress made from a big rectangular piece of attractive fabric that is common apparel in the West Africa region. Dancers learn to manipulate the flowing fabric of the Bouba – to gather, adjust, and accentuat the material while dancing. This is no easy feat because the fabric can easily get caught up in high knee lifts, twirls, somersaults, and complicated footwork. Learning to work with the fabric is a distinct feature of Lamba. I have observed processions of women dancing in regal white Boubas at a wedding in Bamako, Mali and the sight of the fabric stretched out during a pirouette or flicked with a hand gesture is mesmerizing. There is technique to coordinating the movements of the arms, legs, and footwork with the fabric.  The process of learning the dance in relationship to the Bouba epitomizes Lamba's unique choreographic history.  
            Taylor's emphasis on the Bouba exemplifies the pedagogical value she places on respecting traditional and indigenous approaches to dance. The traditional apparel lends the dances much grace and regality. When teaching, Taylor strives to represent the impeccable qualities of African regalia such as the Bouba, Lapa skirt, and headwraps. Attention to these details exemplifies how Taylor honors tradition and the Jelidon context. 
            Taylor's approach to teaching Lamba is an example of how she reveres Mande artisan traditions. However, she also values innovation. She is equally passionate about how West African dance traditions take on new African American iterations. She said, "I want to be able to create." Building upon the tradition through African American sensibilities was important to her. Therefore, she included elements of spoken word poetry, street clothes, and jump rope that represented African American cultural practices. She also included in the repertoire dances that she learned during her childhood such as the Charleston, two-step, and more. As Taylor stated, she teaches "for our people, our culture, and our connection."
            Mama Taylor did not shy away from material that she sourced directly from the creativities and issues distinct to Black life. For example, she directed a theatrical scene in which young people were squabbling about name brand shoes to illuminate the risks of material desires that can create greediness and community conflict. The piece culminated in a moment of resolution and realization of wasted energy. In another piece, created for the Bokondeye Drum and Dance company, Taylor's students recited a poem called "On the Backs of Others We All Stand," which Taylor wrote to emphasize the importance of knowing one's ancestors. Here is an excerpt:
I am standing up. As a reminder to us to always pay homage and honor those who came before. Who opened closed doors, setting precedents and knowing that life on this earth should never be wasted on so much pain. It is the most precious gift which should never be lived in vain.
For Taylor, being a changemaker in West African dance education and performance had to do with making it relevant to Black people in the United States. This means drawing on wellsprings of African American knowledge and experiences. Taylor's dance pedagogy combined what she knew about African culture with the expressive arts that derive from Black communities in New York. Taylor used West African dance traditions as a stepping stone for galvanizing African American connection to Africa. A key goal was to not dismiss, but rather celebrate, the African diaspora creative arts and culture continuum. She would proclaim to her students, "Information about African tradition is an ongoing process."  In other words, African culture grows. She encouraged her students to pay attention to how we could contribute to evolving the dance, and how to work with the resources and skills we have as African Americans. Attempting to replicate what people do in Africa at the expense of leapfrogging over African American creativities and sensibilities is not what she wanted to do. Hence, she integrated Black folk dances as part of the company's repertoire, and especially ones she learned from her father. This was paramount to her teaching and performance.
            When Taylor said, "we are the African American contingency" she was affirming the Black re-iterations or evolutions of African culture in America. She went on to say, "when I taught or performed dances such as Wolosodon or Sunu, I wanted to make a statement and do something different from what I observed in Africa or among other African dance companies in NYC." Taylor's interest in growing tradition and stoking passion about cultural reclamation of African dance for Black folk in America led her to design performance experiences that cultivated ancestral pride and critical thinking about African American heritage. West African dance education delivered by Taylor was about the recovery of ancestral dignity and history. 
            The voices of Taylor's mentees provide more proof of the vitality of her dance education legacy. Taylor has inspired the likes of Magira Ross, dance educator extraordinaire herself, who works and lives in Maryland5 . Ross said:
Mama Taylor is an incredible woman and force in the African Dance trajectory. I think [what] I am most impressed by is her sheer bravery and tenacity as an African American woman who chose to teach dances of the African Diaspora, especially during the Black Arts Movement which mandated that all of our expressions be purposeful in moving forward the agenda of Black freedom. How difficult it must have been to bear the Black torch and simultaneously push out against the daunting and diminishing forces that dictated that Africanity was not valid unless it came directly from Africans born on the Continent. Yet, Mama Taylor persisted in honoring the songs, philosophies, and techniques of traditional African cultures and dances while being bold enough to infuse contemporary energies and flair in her dancing. She stood firm in the gaze of many who would diminish her knowledge and efforts specifically because she is African in America.
Ross emphasizes how Taylor exalted African American wellsprings of knowledge and helped galvanize culturally relevant education and liberation through dance. Another powerhouse artist, Tambra Harris, artistic director of Giwayen Mata dance company and dance educator in Georgia said, "Mama Taylor is a loving elder and dance mother" to her. "She has affirmed my growth as an artist and a leader."  Harris went on to say, "I often fuse her movements into my choreographies." 
            There is also Esther Grant, Taylor's protégé, another fabulous artist-educator who has been touched by Taylor for over three decades. Grant is the rehearsal director for the youth dance company Batoto Yetu in NYC. She said studying with Taylor was extremely empowering because Taylor taught her how to learn and trained her to pay attention to movement details:
To this day, I base much of my teaching methodology on my experience as an African Dance Technique learner in her class. I owe much homage to Ms. Taylor because I have not encountered another teacher that has put so much into my learning, mentored me through my teaching career, and encouraged my creativity. I owe her endless gratitude. I love her dearly.
The voices of Grant, Harris, and Ross, all Black women dance educators, illuminate Taylor's contribution to their professional development. Her pedagogical influence on the evolution of Black/African dancers and teachers has national reach. Taylor continues to nourish hearts and the cultural creativities of the African diaspora. Her legacy is strong.
IMPLICATIONS FOR DANCE EDUCATION HISTORY AND CONCLUDING THOUGHTS
Black dance educators such as Taylor have used African dance to recapture the spiritual frequency that can push back an anti-Black climate. Dance can function as a freedom portal, a source of spiritual and psychological protection from the social realities created by racism and sexism. Sociologist Katrina Hazzard-Gordon (1991) has found that African Americans dance to rebalance the universe. She articulated Black dance as a praxis of political resistance toward oppression and the (re)calibration of worldview through physical action. Former Executive Artistic Director of Ifetayo Cultural Arts Academy Angela Fatou Gittens (2012) discusses how West African dance activated the mindsets that contributed to the Black power movement.  My research (Cruz Banks 2010, 2014, 2020) as well as that of Conner, Patterson-Price, and Faulkner (2020) confirm that West African dance indeed increases youth self-efficacy, mental health, and spiritual capital. Dancing is vital material for growing ancestral connections to history, philosophy, education, and aesthetics that emanate from Africa (Cruz Banks 2010, 2020; Ward 2013). 
            Taylor knew that through African dance, Black dancers could regain heritage and become conduits of cultural growth and transformation. However, they should not be expected to replicate what is done across the Atlantic, she states. "We are the African American contingency" as she puts it, and our unique connections and transformations of West African dance and drum should be respected. As dance studies scholar Gottschild Dixon (2003) notes, Black dance history and the Black dancing body exude power and purpose that are shaped by our social, political, geographical experience and history in America. Taylor believes being descendants of Africa reserves us the right of cultural elaboration, and this is what Taylor did. As choreographer and African American and African Studies scholar Halifu Osumare (2018) explains, Black dancers blur the lines between tradition and contemporary.
            Both Hazzard-Gordon and Gottschild Dixon affirm that Black dancers consciously draw from the continent and diaspora to build artistic practices and dance pedagogies. Professor of African American studies and performance studies Nadine George-Graves (2014) elaborates upon this idea, describing this creative networking as stemming from the "multidirectional process by which people of African descent define their lives" (33). The ontological gathering of pathways and dance moves is rooted in a web of connections among Africa, the Americas and the Caribbean, Europe, and more. Black dance identities grow from a net of stories across "time, geography and cultural difference" (George-Graves 2014, 36).  The genesis story of Black dance is a complex crochet of family lines and physical and social histories. This is the matrix "that sustains and nurtures African American corporeality" (DeFrantz 2002, 27). Black dance artist-educators like Taylor draw from the sensibilities rooted in diaspora-indigenous heritage and epistemologies.
            While our creative processes and soundscape contexts are diverse across the diaspora, Black dance still leverages tenets of African movement artistry. One of them being the unswerving value in musicality in styles such as jazz, African, b-boying, locking, Chicago footwork, salsa, capoeira, modern, and more. The physical absorption of music and leveraging rhythm of music as a sensorial prompt for choreographic practice remains steadfast (Cruz Banks 2021). I use this example to state that Taylor's posture of cultural elaboration is not a turn away from tradition but instead an embrace of African American historical complexities and liberation agendas in dance. Contemporary expressions of Black and African dance such as breakin', house, vogueing, Afrobeat, dancehall, twerking, and Afro-modern fusion are all informed by what George-Graves (2016) calls a "diasporic spidering" process.  In other words, Black dance is fueled by the bodies of creative knowledge that emerge across distinct evolutions of West African dance.
            However, what this research reveals to me as I delve into Taylor's life story is that African dance as practiced by African Americans reveals how the binary between diaspora and indigenous dissolves. The story also brings to the limelight an artist that draws from a "diasporic spidering" but also indigenous specificity. Her legacy is steeped in the kinesthetic epistemologies of the Mande, Jola, and Wolof people of West Africa, in addition to African diaspora cultural forms such as tap, Lindy and Charleston. To me, Taylor epitomizes that Black American is not only a diasporan identity, it is also an indigenous one. Through West African dance practice, artist-educators like Taylor stitch back indigenous connections mutilated by the Atlantic slave trade. The cultural creative (re)iterations, meanings, and purposes of indigenous African dances in the United States demarks a continuum of expressive arts anchored in ancestral consciousness and knowledge. Taylor's story is both indicative and guiding to a generation of artists who have danced to regain fluency in their indigenous literacies.  They have consciously leveraged dance as a bedrock for the intellectual and spiritual development of African Americans. Cultural historian, composer and founder of acclaimed a cappella group Sweet Honey in the Rock, Bernice Johnson Reagon (2011) asserts, "we really had to use whatever territory we could create to take care of the business of making a people."  But that territory was more often cultural than it was land. That is why, she states, African American culture is so powerful. Because of forced diaspora, the people had to get "so much business done" (Reagon 2011).  Wilhelmina Taylor's dance history reinforces the idea that music and dance are the territory in which sovereignty is claimed and Black futures are built.
            In conclusion, Taylor's dance genealogy portrays a momentum of Black creativity determined to strengthen a sense of belonging to the diaspora and the African continent in ways that mend historical ruptures. She wanted to address the interruption of cultural transmission wreaked upon the African diaspora by the Atlantic slave trade and its enduring consequences. As a person of African descent, she claims her inheritance of choreography and music, and as an artist who advances tradition. As a teacher, her primary goal has been to bolster African Americans with positive mindsets and ownership of our heritage. Her passion as a dance educator is for cultural reclamation that galvanizes Black community with a recovery of ancestral memory. Taylor's work is about empowering Black creative universes of dance performance and pedagogy with love and deep reverence for who we are.
---
1. Evolution is a term used in this article not in the Darwinian sense, nor with a colonial frame but instead to convey cultural fruition, and how Black American artists such as Taylor proactively contribute to the continuum of African dance in the diaspora. back to text
2. Ladji Camara was born in Guinea and was a veteran of Le Ballet Africains of Guinea. He migrated to the United States in the 1960s and brought the high-energy and physically challenging dances and music of Guinea. He collaborated with Katherine Dunham and Olantunji. Camara is credited for being the first to bring Mande culture to NYC. back to text
3. The trip was so adventurous, in fact, that Taylor almost got arrested for crossing the river over to Gambia without a visa. back to text
4. Chuck Davis founded the African American Dance Ensemble in Durham, North Carolina in 1983.  He received a Bessie Award for outstanding service and was cited as one of "America's Irreplaceable Dance Treasures" (https://www.bam.org/artists/chuck-davis). back to text
5. Magira Ross has worked as a dance educator for over four decades in Baltimore and Philadelphia. back to text
Berry, Stafford C., Jr. and C. Kemal Nance. 2012. "Baba to Sons: Chuck Davis Choreographs His Legacy with Paths." Presentation given at the 10th Annual International Conference of Arts and the Humanities, held in Honolulu, Hawaii, July 10-13.
Conner, Kyaien O., Juanita Patterson-Price, and Niche Faulkner. 2021. "'African Dance Is My Therapy': Perspectives On the Unique Health Benefits of West African Dance." Journal of Dance Education 21, no. 2: 72-81.
Charry, Eric. 2000. Mande Music: Traditional and Modern Music of the Maninka and Mandinka of Western Africa. Chicago: University of Chicago Press.
Cruz Banks, Ojeya. 2009. "Critical Postcolonial Dance Recovery: An International Literature Review." Journal of Pedagogy, Society and Culture 17, no. 3: 355-67. 
.---. 2010. "Critical Postcolonial Dance Pedagogy: The Relevance of West African Dance Education in the United States." Anthropology and Education Quarterly 41, no.1: 8-34.
.---. 2012. "Katherine Dunham: Decolonizing Anthropology Through African American Dance Pedagogy." Transforming Anthropology 20, no. 2: 159-68.
.---.  2014. "West African Dance Education as Spiritual Capital: A Perspective from the United States." Journal of Dance, Movement and Spiritualties 1, no. 1: 163-79.
.---.  2020. "Fare Ra Lankhi: The Circle Is an Indigenous Pedagogical and Choreographic Space for West African Dance." Journal of Dance Education 20, no. 4: 205-13.
DeFrantz, Thomas F. 2002. "African American Dance: A Complex History." In Dancing Many Drums: Excavations in African American Dance, edited by Thomas F. DeFrantz, pp 3-35. Madison: University of Wisconsin Press.
Dunning, Jennifer. 1992. "Dance in Review." New York Times, May 25, 1992. https://www.nytimes.com/1992/05/25/arts/dance-in-review-714892.html
Gittens, Angela Fatou. 2012."Black Dance and the Fight for Flight: Sabar and the Transformation and Cultural Significance of Dance from West Africa to Black America (1960-2010)." Journal of Black Studies 43, no. 1: 49-71.
George-Graves, Nadine. 2014. "Diasporic Spidering: Constructing Contemporary Black Identities." In Black Performance Theory, edited by Thomas DeFrantz and Anita Gonzalez, 33-44. Durham: Duke University Press.
Hazzard-Gordon, Katrina. 1991. "Dancing to Rebalance the Universe—African-American Secular Dance." Journal of Physical Education, Recreation & Dance 62, no. 2: 36-48.
Heard, Marcia E., and Mansa K. Mussa. 2002. "African Dance in New York City." In Dancing Many Drums: Excavations in African American Dance, edited by Thomas DeFrantz, 143-68.
Johnson Reagon, Bernice. 1999. Folk Alliance International Lifetime Achievement Award Recipient. https://www.youtube.com/watch?v=p3RpvGftyyw&t=311s
Osumare, Halifu. 2018. "Writing Black Dance Memoir Workshop," Collegium for African Diaspora Dance (CADD) 3rd BiAnnual Conference (Dance Black Joy: Global Affirmations and Defiance), February 17, 2018, Duke University, Durham, North Carolina.
Ward, Sheila A. 2013. "African Dance Aesthetics in a K–12 Dance Setting: From History to Social Justice." Journal of Physical Education, Recreation & Dance 84, no. 7: 31-4.
Watson, Angela. 2008. "Guinea Dance." In Africa and the Americas: Culture Politics and History, Vol. 1, edited by Richard M. Juang and Noelle Morisette, 535-540.