Sonia Destri
Sonia Destri Lie is the artistic director and choreographer of Companhia Urbana de Dança. Receiving her degrees in both psychology and ballet has rendered her a unique perspective on human expression and human form. Destri travelled throughout Brazil and Europe after completing her studies, working in dance, theatre, film, and musicals. It was then when she was discovered hip-hop and b-boying dance. She has defined her unique refreshing interpretation of these styles by infusing them with the rich cultural influences of Brazil and the favelas from within. 
Her works creatively embrace elements of hip-hop, b-boying, contemporary dance, and also Brazilian social dances. Destri's choreography has been cited as a significant contribution to the field of dance, generating an entirely new genre that coincidentally returns a greater appreciation for existing dance styles and the significance of sociocultural influences. Media and contemporaries' reviews of her performances are nothing short of spectacular. She received the Best Script Award by the Ford Foundation, the Staging Award 2011 by the State of Rio de Janeiro for the show Eu Danço, the FADA Award by the City Hall of Rio de Janeiro (2012, 2013 and 2014), and the Best Choreography Award by Conseil International de la Danse (CID Unesco).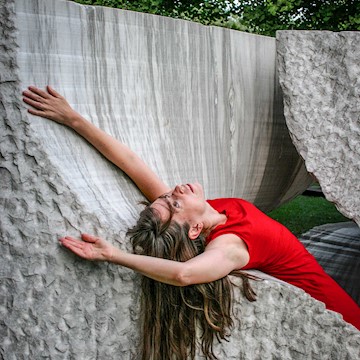 Heather Harrington
Heather Harrington graduated from Boston University with a degree in psychology. She then moved to New York City and danced with the Doris Humphrey Repertory Company, the Martha Graham Ensemble, the Pearl Lang Dance Theater, and the Bella Lewitzky Dance Company. Her choreography has been presented by various venues nationally and internationally including Danspace Project's City/Dans series, the Lower Manhattan Cultural Council's Sitelines series, Fresh Tracks at Dance Theater Workshop, Rockefeller Center, Boston University, Sky Rink, New Stuff at P.S. 122, Dancing in the Streets at Wave Hill, The Yard, Joyce SoHo, The 92nd Street Y, Kean University, and the Center for Architecture.
She was a finalist in 18th International Choreographic Competition in Hanover, Germany in 2004 and invited to perform in the Bangkok International Festival of Music and Dance. She has received grants from Meet the Composer, The New York State Council on the Arts, The Bossak/Heilbron Charitable Foundation, L.J. Skaggs and Mary C. Skaggs Foundation, and the Harkness Space Grant from the 92nd Street Y. She has been a resident choreographer for The Yard's Bessie Schonberg Choreographers and Dancers Residency, Kaastbann International Dance Center, and the Hotel Pupik series in Austria. Harrington has created a number of site- specific pieces including "Giscard Games" for the Lower Manhattan Cultural Council, across from the New York Stock Exchange on the stairs of Federal Hall Memorial, where dancers depicted the culture of stock traders. In 2014, she was asked to choreograph a site specific piece, "Melt", at the Grounds for Sculpture in Hamilton, NJ for the Outlet Dance project. In 2013, she staged a gun violence protest piece as a part of the Art=Ammo project at Washington Park in Newark, NJ. Harrington also grew up as a competitive figure skater and was a figure skating coach at Sky Rink Chelsea Piers for 7 years. She skated, choreographed, and taught for the Ice Theatre of New York, an ice skating company devoted to presenting dance on ice. Heather Harrington is currently an adjunct professor of Modern Dance and Theory at Kean University and a MFA candidate at the University of Wisconsin-Milwaukee.
Joanna Mendl Shaw
JoAnna Mendl Shaw is a choreographer and the Artistic Director of The Equus Projects, a unique dance company known for its large-scale site-specific performance works for dancers and horses and for the innovative choreographic structures that have emerged from their creation process. Shaw has been making works for stage and rural and urban landscapes since the 1980s. The recipient of two NEA Choreographic Fellowships, Shaw's choreography has been presented by NYC dance presenters including Dancspace, DTW, the 92nd Street Y, Dancing in the Streets, the Neuberger Museum, Chashama, The Drawing Center and Dance NOW. She has taught and created works for universities and dance companies throughout the US and in Scotland, Wales, Switzerland and Hungary. Her work for figure skaters includes five choreographic commissions for Ice Theatre of New York.
Since 1990, Shaw and The Equus Projects have gained international recognition for their large-scale performances using regionally-based equestrians and horses. Their projects have been produced in 15 states including commissioned works for The Flynn Center for the Performing Arts, The Myrna Loy, the Saratoga Arts Festival, and NYC's River to River Festival. Equine presenters have included Equine Affaire, Oxridge Equestrian Center, High Hopes, Green Mountain Horse Association and Parelli. The Equus Projects also produces OnSite NYC, tailor-made movement events created for parks, gardens and walkways throughout NYC, funded by the Lower Manhattan Cultural Council and the NYC Department of Cultural Affairs. 
An internationally recognized dance educator, Shaw has taught on the faculty at NYU/Tisch, for ten years at The Juilliard School, for 16 years in the Ailey/Fordham BFA program and on the faculty at Marymount Manhattan. She has been a guest artist at universities throughout the States, taught for companies and festivals in Europe and Asia, for the Florida Dance Festival, The Bates Dance Festival and the Heifetz International Music Institute.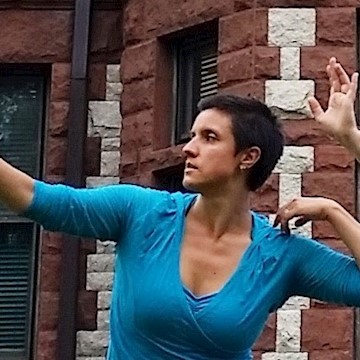 Kelly Silliman
Kelly Silliman is a dance artist, educator, scholar, and activist based in western Massachusetts. She holds an MFA in Choreography and Performance from Smith College, a BA in Theatre Arts from Stetson University, and an appointment as a Five College Associate, a program for independent scholars. She has taught and performed with NewARTiculations Dance Theatre, UpRooted Dance Theatre, inFluxdance, Cat Wagner/Collaborations, and is the former owner of The Dance Barn (now Charlottesville Ballet Academy). Kelly is the Youth Dance Director for the School for Contemporary Dance and Thought (SCDT), a collaborator with Deborah Goffe/Scapegoat Garden, and is the founder/director of "the tinydance project," a low-tech dance initiative for which she tows a small stage by bicycle to performances. www.kellysilliman.com
Rosie Trump
Rosie Trump is a dance choreographer, filmmaker, and the artistic director of Rosie Trump | With or Without Dance, a pick up company with a hybrid practice in dance and video media.  Her work is nostalgic in style, feminist, and deliberately understated. She plays with the tension between the ordinary and the absurd in search of movement that is mutually comedic and political. Her dance films have been presented by the Utah Dance Film Festival, the Philadelphia Dance Film Festival, the Opine Dance Film Festival, the RADfest, the Jacksonville Dance Film Festival, and Dances Made to Order. She is the founder and curator of the annual Third Coast Dance Film Festival.  Trump is an Assistant Professor of Dance at the University of Nevada, Reno.  www.rosietrump.org