The following is a series of five still images captured from the short video dance, Gravity's Angel (2015), directed, choreographed and edited by Rosie Trump with performance by Katie Jean Dahlaw.
Gravity's Angel is a study in the action of falling. The sole action of a dancer falling over and over again accelerates the movement from ordinary to absurd. The dancer progresses from clumsy to clownish, to pathetic, to obstinate, and ultimately to triumphant. The transformation takes a singular choreographic action from banal to radical. This audience is disarmed by the desire to laugh at the dance while concurrently finding it provocative.
The dancer journeys across an urban landscape. She walks the city against a backdrop of street art and urban architecture. The setting captivates because of its simultaneous specificity and ubiquitousness.
The dancer is caught mid-fall in an uncertain trajectory. Is she ascending or descending?
The dancer's stance echoes the backdrop. While she is foregrounded with hands on hips, the red of her skirt echoes the image behind. A graphic quip sets up the next action.
Hands behind her head, the dancer smiles before launching into a crescendoing head bang.
Is her look insolent, an invitation, or a dare? The gesture of arms crossing, deliberately contrasting the openness of the previous still.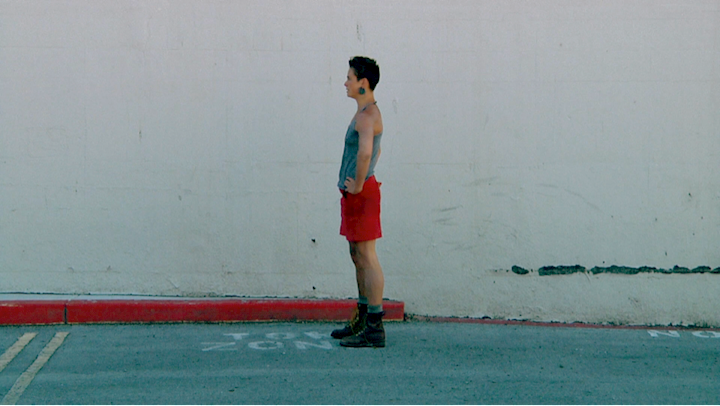 A brief moment of retrospection, before she pivots, walks out of frame, and the film ends.