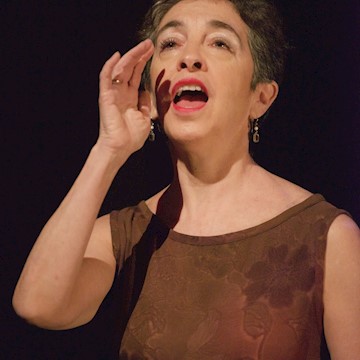 Janis Brenner
Janis Brenner is a multi-award-winning dancer/choreographer/singer/teacher and is Artistic Director of Janis Brenner & Dancers in NYC. Known for her "meticulous artistry" (The Village Voice), she has toured in 35 countries and is recognized as a "singular performer" with a multifaceted artistic range. Honors/grants include: NY Dance & Performance Award ("Bessie") for her performance in Meredith Monk's The Politics of Quiet, Lester Horton Award for Choreography in L.A., NY Foundation for the Arts Fellowship, The Fund for US Artists at International Festivals, the U.S. State Department, Asian Cultural Council, The Trust for Mutual Understanding, O'Donnell Green Music & Dance Foundation (2 grant awards), UNESCO, US Embassies in Moscow, Bosnia, Jakarta and Dakar, and a commission for the interdisciplinary work, The Memory Project from the Whitney Museum of American Art. Her work has been commissioned/restaged on more than 50 companies and colleges worldwide and she performed with Meredith Monk and Vocal Ensemble from 1990 - 2005, 2014 (recording on ECM Records). Ms. Brenner was with the Murray Louis Dance Company from 1977-84, working with Rudolf Nureyev, Placido Domingo, Dave Brubeck Quartet, Joseph Papp, Bat Sheva Dance Company, and Alwin Nikolais. Janis Brenner & Dancers has performed throughout the U.S., Asia, Russia and Europe since 1989 and has been presented by leading NY organizations. The company is known for the caliber of its dancers, its wide-ranging national and international guest residencies as well as its "emotionally authentic" and musically diverse work. Brenner has been on faculty at The Juilliard School since 2009, mentoring Choreographers and Composers Collaborations and teaching "Creative Process."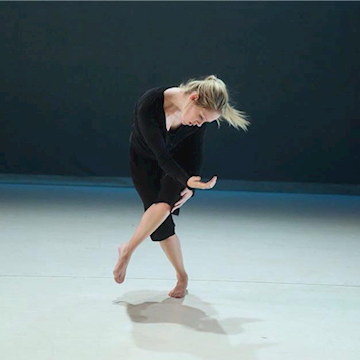 Leslie Bush
Leslie Bush is a Philadelphia based performing artist, educator, and community organizer whose work spans across many forms and subjects. Originally hailing from Ann Arbor Michigan, Ms. Bush earned her Bachelor of Science in Kinesiology with a focus on contemporary dance from Indiana University in Bloomington, Indiana in 2012. In 2017 she graduated with a Master of Fine Arts in contemporary dance performance from Temple University in Philadelphia, Pennsylvania. Her scholarly research focuses on improvisation and social dance as expressions of embodied identity and non-violent resistance. Ms. Bush also creates performance work for stage, site specific locations, and film. Her work describes the ephemeral interactions between humans, technology, nature, and movement. She employs several mediums-including improvisational movement, innovative technologies, and video installation—to create environments that encourage a re-imagining of concepts such as control, dis/organization, and adaptation. Through her work, Ms. Bush also advocates for greater collaboration between artists and technology developers. She is currently working to provide choreographers greater access to expensive computer software and equipment with the goal of encouraging cross disciplinary projects.
Ms. Bush also teaches dance and works to develop community arts outreach programs throughout the Philadelphia area. Since January 2017, she has taught as an adjunct professor of dance at Rowan University in Glassboro, New Jersey. She also works as a guest teaching artist at Taller Puertrriqueno, the premier Latino arts center of Philadelphia, and is a teacher and community organizer at L&M Dance Studio, the first Chinese dance studio in Philadelphia's Chinatown community.
Christina Castro-Tauser
Christina Castro-Tauser earned her MFA at Temple University with a focus on choreography, under the guidance of professors Jillian Harris, Mark Franco, Merian Soto, Megan Mazarick, Kariamu Welsh, Kun-Yang Lin, Karen Bond and others. So far in her time at Temple University,  Christina has choreographed "Displaced and Disconnected,"  a site specific piece exploring one's feelings of entering a new place, as well as "Needed Conversations," and "Among Us".  She also organized Temple University's participation in National Water Dance Day for which she choreographed "Peace by the Water," which streamed nationally along with many others dancing simultaneously across the country. Christina is also the funding director of Expansions Contemporary Dance Ensemble.
Prior to her years in Philadelphia she was the Director of the Gainesville Ballet Junior Company and an Instructor for the Gainesville School of Ballet for eight years under the direction of Diane Callahan at Brenau University in Gainesville, Georgia. Her choreography "Not it" represented Brenau University at the American College Dance festival.
Christina received her BA in Dance from Point Park University. She was an apprentice at the Colorado Ballet  where she choreographed Cafe con Leche for the Colorado ballet studio Company. She has trained with Laura Alonzo at Centro Pro Danza Cuba. Other mentors, instructors and schools with whom she trained include Deidre Kellogg and Susan Stowe, The Milwaukee Ballet School and Minnesota Dance Theatre.
Christina is married to Scott Tauser and proud mother of Hunter and Cecilia.
Bryn Cohn
Described as a "having a brilliant mind" (Dance Enthusiast), Bryn Cohn is an award-winning dancemaker, educator and artistic director of contemporary dance company Bryn Cohn + Artists. BC + A has presented work at Danspace Project, Kaatsbaan International Dance Center, Bryant Park, Gibney Dance, 14th Street Y, Ailey Citigroup Theater, Jazz at Lincoln Center, Symphony Space, Judson Memorial Church, 92nd Street Y, Martha Graham Theater, Center for Performance Research and others. She won REGALIA, a choreography competition on Repertory Dance Theatre and will create an original work on the company this fall, for which she has been nominated for a Princess Grace Award.
Cohn's commissions include Missouri Contemporary Ballet, Lunge Dance Collective, Big Muddy Dance Company, SUNY Buffalo, Jacksonville Dance Theatre, Grand Valley State University, CSU Fullerton, Stockton University, fashion's Betsey Johnson and Youth America Grand Prix. She was on faculty at Peridance, Pushing Progress Contemporary Training Program, and Greenwich Ballet Academy.
Cohn has taught master classes at companies and institutions throughout the U.S. and was featured in Dance Teacher Magazine. Cohn was invited to Crystal Pite's The New Aesthetics Performance Intensive and served on The Massachusetts Cultural Council Choreography Fellowship Panel. Cohn has a BFA from California Institute of the Arts in dance and has been honored as a distinguished alumna (2018). Cohn is pursuing Master of Fine Arts candidacy at University of Wisconsin-Milwaukee as a High Honors and Chancellor's Award recipient.
She lectures at Loyola Marymount University and is on faculty at Los Angeles Ballet.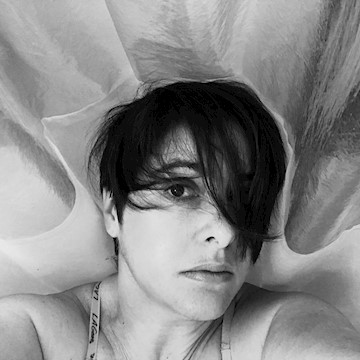 Anabella Lenzu
Originally from Argentina, Anabella Lenzu is a dancer, choreographer and teacher with over 25 years experience working in Argentina, Chile, Italy and the USA. As Artistic Director of Anabella Lenzu/DanceDrama, Lenzu draws on her diverse background to create thought-provoking and socially-conscious dance-theatre in the interest of improving our human condition. She holds a MFA in Fine Arts (concentration in Choreography) from Wilson College, PA. Classically trained at the renowned Teatro Colòn in Buenos Aires, Lenzu studied the modern dance techniques of Humphrey/Limòn and Graham in New York. Her studies of Tango and the folkdances of Argentina, Spain, and Italy, further inform her work. Her choreography has been commissioned all over the world, for opera, TV programs, theatre productions, and by many dance companies, such as Anna Sokolow Theatre/Dance Ensemble (New York) and Movimento Danza (Naples, Italy). Lenzu founded her own dance school L'Atelier Centro Creativo de Danza in 1994 in Argentina, and has maintained an active teaching career ever since.

Currently, Lenzu conducts classes at Peridance Capezio Center and NYU Gallatin. She is  also Artist-in-Residence at CUNY Dance Initiative 2019-2020.

Lenzu has written for various dance and arts magazines, and published her first book in 2013, entitled Unveiling Motion and Emotion. The book contains writings in Spanish and English on the importance of dance, community, choreography, and dance pedagogy. Photography by Todd Carroll documents Lenzu's vast range of experiences dancing, teaching, and choreographing
Charles Macdonald
Charles Macdonald, originally from Michigan, is a graduate of Julliard Dance Program. He has performed with Detroit's Harbinger Dance Company and with NYC's Sandra Cameron Dance. Charles is a former NYC public school teacher, and currently teaches and performs with Dances for a Variable Population. 
Jeannine Murray-Román
Jeannine Murray-Román is an Assistant Professor of French and Spanish in the Department of Modern Languages at Florida State University where she teaches courses on Francophone studies, and comparative Caribbean literatures and cultures. She is the author of the recent articles, "Twitter's and @douenislands' ambiguous paths" in SX archipelagos and "Re-reading the Diminutive: Caribbean Chaos Theory in Wilson Harris, Édouard Glissant, and Antonio Benítez-Rojo" in Small Axe, as well as the monograph Performance and Personhood in Caribbean Literature: From Alexis to the Digital Age (University of Virginia Press, 2017). Her current research interests include figures of partial death in Caribbean writing, environmental justice and the "debt crisis" in Puerto Rico, and Fanon's performative writing.
Anthony Shay
Anthony Shay is professor of Dance and Cultural Studies in the Theatre and Dance Department of Pomona College, Claremont, CA. He is the author of seven monographs, and author or co-author of four volumes, the latest (with Barbara Sellers-Young), the Oxford Handbook of Dance and Ethnicity (2016). His latest book is Igor Moiseyev and the Moiseyev Dance Company: Spectacle, Russian Nationalism, and the Cultural Cold War (Intellect Books, in press 2018). He has recently lectured on "What is Music? What is Popular Persian Music?" at Yale University, January 27, 2018, and "The History of Staged Folk Dance" at Siamsa Tire, the Irish National Folk Theatre, Tralee, Ireland, May 11, 2018.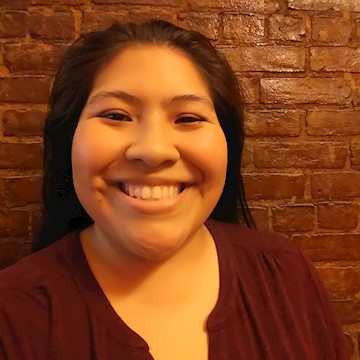 Jessica Tezen
Jessica Tezen is a Visual Artist, Producer, and Engineer from Brooklyn, NY. As a theology, music and art lover, she combines her passions in various videos and art pieces. With each video or art piece, she is intentional in addressing issues in today's society and in sharing her theological struggles and discoveries. She is currently an M. Div candidate at Union Theological Seminary in NYC where her concentration is Theology and the Arts. Be sure to check out www.atruthproduction.com and follow her on Instagram @one_truth.
Rosie Trump
Rosie Trump is a dance choreographer, filmmaker, and the artistic director of Rosie Trump | With or Without Dance, a pick up company with a hybrid practice in dance and video media.  Her work is nostalgic in style, feminist, and deliberately understated. She plays with the tension between the ordinary and the absurd in search of movement that is mutually comedic and political. Her dance films have been presented by the Utah Dance Film Festival, the Philadelphia Dance Film Festival, the Opine Dance Film Festival, the RADfest, the Jacksonville Dance Film Festival, and Dances Made to Order. She is the founder and curator of the annual Third Coast Dance Film Festival.  Trump is an Assistant Professor of Dance at the University of Nevada, Reno.  www.rosietrump.org
Tamara Williams
Tamara Williams is a native of Augusta, GA. She earned her BFA in Dance from the Florida State University and received her MFA in Dance from Hollins University in collaboration with The American Dance Festival, The Forsythe Company, and Frankfurt University. She is a certified GYROTONIC(R) Trainer, Reiki Practitioner and Capoeirista. Williams is an Assistant Professor of Dance at UNC Charlotte.
Williams's choreography has been performed nationally and internationally in Belgrade, Serbia; Basel, Switzerland; Trinidad & Tobago; Salvador, Brazil; Kingston, Jamaica; and Puebla, Mexico. In 2011, Williams created Tamara LaDonna Moving Spirits, Inc., a contemporary arts organization dedicated to performing, researching, documenting, cultivating, and producing arts of the African Diaspora. Williams continues to serve as Artistic Director. 
Her awards and residencies include: the Artist Residency Fellowship at the Dance & Performance Institute in Trinidad (2012), the Harlem Stage/Aaron Davis Hall Fund for New Work grant (2013), a Community Arts Fund Grant from the Brooklyn Arts Council (2014 & 2016), the Lecturer/Emerging Artist-in-Residence at Penn State University- Altoona (2014), the Company-in-Residence at the Jamaica Center for Arts & Leadership in Jamaica, Queens (2015), a Turkey Land Grove Foundation recipient in which she participated in two seven-day dance writing residencies in Martha's Vineyard (2015 & 2017), a Fall Space Grant from the Brooklyn Arts Exchange (2015), a CoA+A Faculty Digital Making Grant at UNC Charlotte (2016-17), a Faculty Research Grant (2017), and a Culture Blocks grant from the Mecklenburg County Arts & Science Council (2017).