Choreographer, Director, Editor: Rosie Trump; Dancers: Christina Carter, Abrie Parrish, Shelby Wilburn; Production Assistant: Trisha French
The following is a series of five still images captured from the short video dance, Women in Cities (2017). Directed, choreographed, and edited by Rosie Trump with performance by Christina Carter, Abrie Parrish, and Shelby Wilburn. Production assistance by Trisha French.
Women in Cities is a short stop motion dance film which assembles over two thousand still images. Kinetic snapshots of twisting, hinging, and flinging are interrupted by micro-arrests generating a passive tension between the women. Referencing visual artist Robert Longo's Men in Cities series, Women in Cities manifests the implied movement in Longo's images.
Three women navigate internal and external pressures. Their twisting actions contradict the implied use and confines of their clothing.
Themes of separate yet together and internal versus external permeate Women in Cities. The split screen format underscores this duality.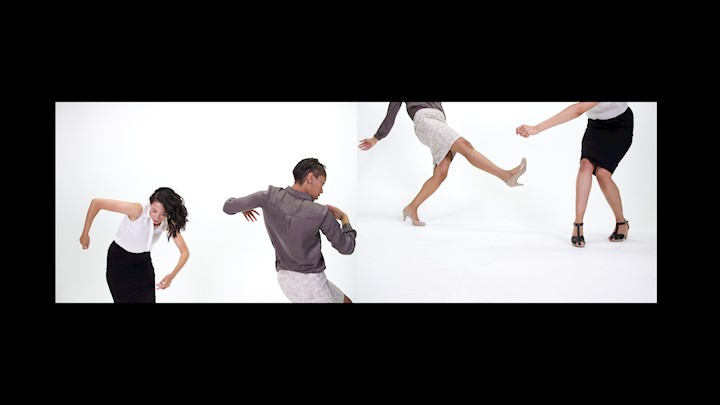 The framing cuts the dancers in half, and situates their top halves lower and their bottom halves higher. A common pressure is articulated disjointedly.
White empties out the center of the frame, pulling the dancers to the edges. Her lower and upper body is angled and out of sync with itself.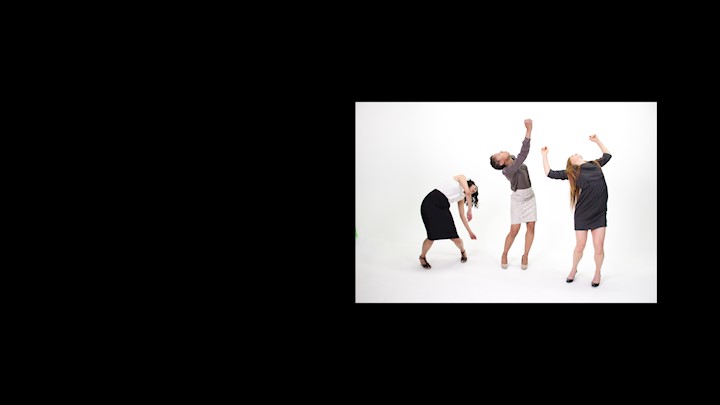 The dancers inflate and deflate on top of their selves. Drawing a connection between the psychological state and the physical state.
The brief moment before her hands reach downward to brace her fall, the dancer is caught in exhilaration.