Eboné Amos
Eboné Camille Amos is a second year MFA candidate and teaching assistant in the School of Dance at Florida State University. In addition to collegiate training, she received a full-scholarship to the Debbie Allen Dance Academy in Los Angeles, CA to train with notable artists such as Debbie Allen, Karen McDonald, Chantel Heath and Cathie Nichols.  In 2012, she earned her B.S. in Professional Studies: Dance Education with a K-12 Teaching Licensure. For 3 years, she was the primary dance educator for grades 6-8 at Hickory Ridge Middle School in Memphis, TN. She taught ballet, contemporary, tap, jazz, musical theatre and hip-hop. She also launched her non-profit dance program, Arts Alive, which partnered with Title l schools to offer dance lessons free of charge. In addition to community engagement through dance education, Eboné has performed at various venues in stage plays including Hairspray (Dance Captain), Peter Pan, Footloose, A Chorus Line, Legally Blonde, and Singing in the Rain.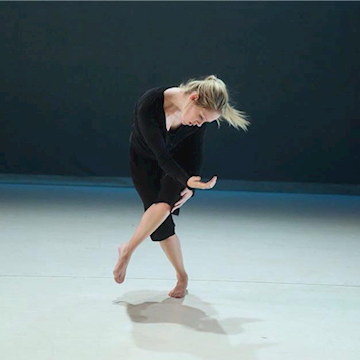 Leslie Bush
Leslie Bush is a Philadelphia based performing artist, educator, and community organizer whose work spans across many forms and subjects. Originally hailing from Ann Arbor Michigan, Ms. Bush earned her Bachelor of Science in Kinesiology with a focus on contemporary dance from Indiana University in Bloomington, Indiana in 2012. In 2017 she graduated with a Master of Fine Arts in contemporary dance performance from Temple University in Philadelphia, Pennsylvania. Her scholarly research focuses on improvisation and social dance as expressions of embodied identity and non-violent resistance. Ms. Bush also creates performance work for stage, site specific locations, and film. Her work describes the ephemeral interactions between humans, technology, nature, and movement. She employs several mediums-including improvisational movement, innovative technologies, and video installation—to create environments that encourage a re-imagining of concepts such as control, dis/organization, and adaptation. Through her work, Ms. Bush also advocates for greater collaboration between artists and technology developers. She is currently working to provide choreographers greater access to expensive computer software and equipment with the goal of encouraging cross disciplinary projects.
Ms. Bush also teaches dance and works to develop community arts outreach programs throughout the Philadelphia area. Since January 2017, she has taught as an adjunct professor of dance at Rowan University in Glassboro, New Jersey. She also works as a guest teaching artist at Taller Puertrriqueno, the premier Latino arts center of Philadelphia, and is a teacher and community organizer at L&M Dance Studio, the first Chinese dance studio in Philadelphia's Chinatown community.
Amy Cartwright
Amy Cartwright is a London-based dance performer, choreographer and creative coder. She creates computational choreographies that use technology within live performance. Amy is interested in questioning the inherent humanity involved in dance performance and researching how computational processes, particularly artificial intelligence, can be used with live dance performance, exploring possibilities around wearable technologies, non-human performers and computational choreography.
Amy is a recipient of the inaugural V&A Digital programmes and Goldsmiths Computing 'Computational Arts Residency'. This opportunity has allowed her to work on furthering her research creating a new piece which concentrates on the agency of the non-human dancer in live performance. Not limited to live performance, Amy's work spans across many mediums, including; interactive pieces, instillation works and digital art.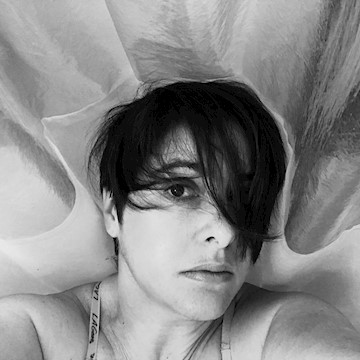 Anabella Lenzu
Originally from Argentina, Anabella Lenzu is a dancer, choreographer and teacher with over 25 years experience working in Argentina, Chile, Italy and the USA. As Artistic Director of Anabella Lenzu/DanceDrama, Lenzu draws on her diverse background to create thought-provoking and socially-conscious dance-theatre in the interest of improving our human condition. She holds a MFA in Fine Arts (concentration in Choreography) from Wilson College, PA. Classically trained at the renowned Teatro Colòn in Buenos Aires, Lenzu studied the modern dance techniques of Humphrey/Limòn and Graham in New York. Her studies of Tango and the folkdances of Argentina, Spain, and Italy, further inform her work. Her choreography has been commissioned all over the world, for opera, TV programs, theatre productions, and by many dance companies, such as Anna Sokolow Theatre/Dance Ensemble (New York) and Movimento Danza (Naples, Italy). Lenzu founded her own dance school L'Atelier Centro Creativo de Danza in 1994 in Argentina, and has maintained an active teaching career ever since.

Currently, Lenzu conducts classes at Peridance Capezio Center and NYU Gallatin. She is  also Artist-in-Residence at CUNY Dance Initiative 2019-2020.

Lenzu has written for various dance and arts magazines, and published her first book in 2013, entitled Unveiling Motion and Emotion. The book contains writings in Spanish and English on the importance of dance, community, choreography, and dance pedagogy. Photography by Todd Carroll documents Lenzu's vast range of experiences dancing, teaching, and choreographing.
Lucy Nicholson
Lucy Nicholson is a senior lecturer with UCLanDance, and co-course leader for the BA (Hons) Dance Performance & Teaching  course at The University Of Central Lancashire, Preston.  Her practice focusses on working with non-dancers, who may find themselves in places of disconnect and works internationally to develop and share her practice.  As a lead dance artist with Dance United much of her work focussed within the criminal justice system and more recently with adults in recovery both community and prison based. The essence of Lucy's work is a return to the body as a starting point for creative practice, she uses a grounding in Laban / Bartenieff movement systems to underpin these explorations and is passionate about the role facilitation plays in the development of successful dance and movement projects.  Originally from the Scottish Borders, She now lives in the Lake District with her husband, son and collie dog.
Margaret Westby, PhD
Dr. Margaret Jean Westby is an interdisciplinary researcher, performer, and educator and currently works as an Instructor of Dance at the University of West Indies, Trinidad and Tobago. She received her PhD Humanities-Interdisciplinary (Fine Arts) doctorate from Concordia University in Canada.  Her PhD research-creation project, Orbital Resonance, was conceived as a feminist intervention toward the development of new choreographic methods for sonic, responsive environments and toward the design of technology informed by and for the body. She received funding to research and present her work as an affiliate of Hexagram Centre for Research-Creation in Media Arts, Design, Technology, and Digital Culture. 
She studied digital performance through earlier degrees in New York City (BA Marymount Manhattan College 2008) and in London, England (MA Brunel University 2010).  As a techno-feminist dancer, her work investigates the hybridization of bodily movement and machine-based actions by collaborating on international, multidisciplinary artistic projects. This has led to over 20 performances in Austria, Canada, Finland, United Kingdom, and the United States. She received funding for further projects from Studio XX, a media arts and multimedia resource centre for women in Montreal, Quebec, Canada. She regularly presents and publishes her research at a wide-range of conferences including the Society for Social Studies of Science, Dance Studies Association, Digital Resources for the Humanities and Arts, and more. Her practice, research, and pedagogy are immersed in both the worlds of technology and dance through a critical and contextual perspective. For more information on Westby's work and publications visit: mjmwestby.com.