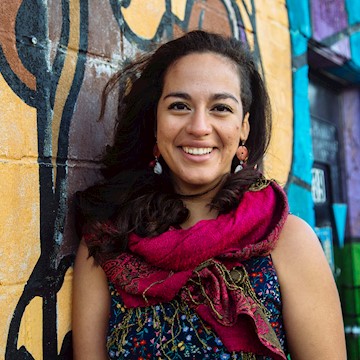 Mariadela Belle Alvarez
Honduran born, Philippine and USA raised, Mariadela Belle Alvarez is a Los Angeles based performing artist shaped and molded by 10 years of creating, performing, and teaching throughout Philadelphia. A soulful storyteller, Alvarez creates dance theater and facilitates educational engagement at the intersections of activism, culture, and community organizing. Her choreography has been presented by the Painted Bride Art Center, Asian Arts Initiative, and PGM ONE, to name a few. Her commitment to dance and social justice has earned her scholarships to train with CONTRA-TIEMPO, Ananya Dance Theatre, and Urban Bush Women's Summer Leadership Institute. Teaching credits include Swarthmore College, Temple University, Spelman College, and several K-12 arts education nonprofits; for which Alvarez was recognized locally by the Bartol Foundation for her leadership as a Teaching Artist. Alvarez received her early training at the Lehigh Valley Charter High School for the Performing Arts and earned her BFA in Dance from Temple University. 
Black Spatial Relics
Black Spatial Relics is a new performance residency about slavery, justice and freedom. The residency annually supports the development of new performance works that address and incorporate public histories of slavery and contemporary issues and pursuits of justice and freedom Founded in 2016, at Brown University, Black Spatial Relics is now in its second year as a residency program and is now an independent project. The 2019 Black Spatial Relics artists in residence are Julie B. Johnson and muthi reed. The Black Spatial Relics Residency is made possible with support from the JKW Foundation and other independent donors. To learn more about Black Spatial Relics visit www.blackspatialrelics.org
Arielle Brown
Arielle Julia Brown  is a creative producer, social practice artist and dramaturg.  Emerging from her work and research around U.S. slavery, racial terror and justice, Arielle is committed to supporting and creating Black performance work that commands imaginative and material space for social transformation. She is the founder of The Love Balm Project (2010-2014), a workshop series and performance based on the testimonies of women of color who have lost children to systemic violence (Atlanta, GA and Oakland, CA). She is also the founder and director of Black Spatial Relics, a new performance residency about slavery, justice and freedom. Arielle is a co-creative producer on Remember2019, a performance and residency project based in Phillips County, Arkansas.  Arielle's work and writing on Black political performance has been published in the anthology Revolutionary Mothering: Love on the Frontlines, ARTS.BLACK and Public Art Dialogue among others. Arielle was a 2017-2018 Diversity and Leadership Fellow with Alliance of Artists Communities. Arielle is a 2019 Monument Lab National Fellow. She recently served as both the Public Programs Developer at the Penn Museum and as a cultural planning consultant for the Penn and Slavery Project at the University of Pennsylvania. Recent dramaturgical credits include Grounds That Shout! And Others Merely Shaking (Fist and Heel Performance Group, Partners for Sacred Places and Philadelphia Contemporary) 2019 and SaltPepperKetchup (InterACT Theatre) 2018.  Arielle was the 2015-2017 graduate fellow with the Center for the Study of Slavery and Justice at Brown University where she received an M.A. in Public Humanities.
Rachel Carrico
Rachel Carrico is an Assistant Professor of Dance Studies in the School of Theatre + Dance at the University of Florida. She holds a Ph.D. in Critical Dance Studies from the University of California–Riverside, an M.A. in Performance Studies from NYU, and a teaching certificate from the Limón Institute. Her research explores the aesthetic, political, and social histories of second lining, an improvisational dance form rooted in New Orleans's African diaspora parading traditions. Her scholarship has been published in TDR: The Drama Review, TBS: The Black Scholar, and several edited volumes, including Freedom's Dance: The Second Line in New Orleans (LSU Press: 2017), The Oxford Handbook on Dance and Competition (Oxford UP: 2018), Contemporary Scholars and Artists Respond to the Baby Dolls of New Orleans (University of Mississippi Press: 2018), and The Futures of Dance Studies (University of Wisconsin Press: 2020). In 2008, Rachel co-founded the performance ensemble Goat in the Road Productions in New Orleans, with whom she has directed two international artist residencies and launched Play/Write, a youth playwriting festival, in New Orleans schools. She has also been a contributor to New Orleans's Data News Weekly and a consultant for the 2018 documentary film on New Orleans vernacular dance, Buckumping, by Lily Keber. She parades annually with the Ice Divas Social and Pleasure Club.
Britt (Whitmoyer) Fishel
Britt (Whitmoyer) Fishel was born in Lancaster, Pennsylvania where she studied Cecchetti from an early age. She received a BFA in Dance from East Carolina University, and after graduating, moved to NYC.
She established and developed bnw:dance in 2009. Britt led company tours throughout NYC, Richmond, Washington D.C., Philadelphia, and Chicago. In 2010, the company was selected for a residency in London where Interrogation was created with UK composer, James Reindeer. She and Reindeer continue to collaborate today.
Britt received her MFA in Dance (Screendance) from the University of Michigan (2014).
Her screen work has been in Greensboro Dance Film Festival, Y'allywood Film Festival, Detroit Dance City Festival, EnCore Dance on Film Festival, DanceBARN, Dance for Reel, Women in Dance, and more.
billet-doux (2017), was published in the Women CineMakers (Berlin) and research from Fishel's 2018 work, Epoch, was in The Dancer-Citizen Issue 7. Fishel's paper, Dance is for Everyone: Digital Consumption in a Post-Information Age was presented at Dance Studies Association's 2019 Annual Conference at Northwestern University.  
Describing her work, ArtsATL states: "The final moments of site., which enmeshed dance and video, were stunning." DIYdancer describes Fishel as having "a sharp eye for film and passion for her research."
She was on faculty at Clayton State University, the creator of Opine Dance Film Festival, and a founding member of Atlanta Dance Collective.
She currently is a Lecturer of Dance at Bryn Mawr College, Dance Adjunct at Drexel University, and continues to make both live performance and dance film independently and collaboratively. 
Julie B. Johnson
Julie B. Johnson, PhD, is a dance artist and educator working in the intersections of creative practice, African Diaspora movement aesthetics, community interaction, and social justice. She is driven by the ways that dance can serve as a practice of inquiry, empathy, and empowerment. Julie is a Senior Lecturer at Spelman College in the Department of Dance Performance & Choreography and the African Diaspora & the World Program. She is Executive Artistic Director of Moving Our Stories, LLC, a multifaceted interactive creative practice that explores embodied memory and personal narratives; and is a co-founding editor of The Dancer-Citizen, an online, peer-reviewed, open-access dance journal exploring the work of socially engaged artists. Julie serves as a co-director of The Georgia Incarceration Performance Project, a devised archives-to-performance collaboration exploring the history of incarceration and convict labor in Georgia through embodied archival research and performance. She is a 2019 Arbes Award recipient, and was awarded the 2019 Black Spatial Relics Residency Award for Idle Crimes & Heavy Work, a performance and video installation focusing on black women's experiences within the history of convict labor and incarceration in Georgia. She is a 2018-19 Hughley Artist Fellow, and a 2017-18 Alternate ROOTS Artistic Assistance grant recipient. Julie earned a PhD in Dance Studies at Temple University's Boyer College of Music and Dance, where her research focused on meanings and experiences of 'community' in a West African Dance class in Philadelphia.
muthi reed
muthi reed is a composer, conductor and maker from Philadelphia, PA.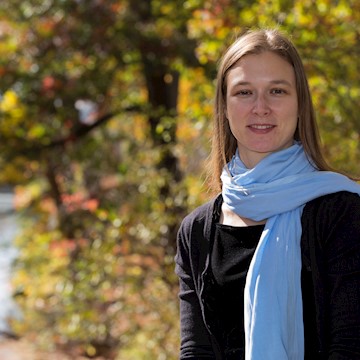 Candice Salyers
Candice Salyers is a dancer and multi-disciplinary artist whose work integrates text, poetic images, and movement to create both intimate and large-scale installations and performances. Her dance work has been shown in landscapes and stages in the US, UK, Estonia, Ireland, Bulgaria, Morocco, and the Czech Republic and has been commissioned and supported by residencies across the US, including at Acadia National Park, as well as in Spain, Armenia, Canada, and Hungary. She was one of 10 US artists selected to participate in an international exchange between National Dance Project (US) and Culture Ireland (IE). Her PhD. work explored intersections of dance performance, feminist theories, and environmental philosophy, and she also holds an MFA and MDiv. Her recent solo performance project explores different physical and conceptual perspectives on female sainthood and includes dances created for both landscape and stage spaces. Currently, she is an Assistant Professor of Dance at The University of Southern Mississippi. Candice was awarded a 2016 Choreographic Fellowship from the Massachusetts Cultural Council for her choreographic and performance work and a 2017 Postdoctoral Fellowship from the American Association of University Women for her writing. She was recently one of the first dancers invited to speak at the Society for European Philosophy, and her publications include contributions to  Tanz, Bewegung, und Spiritualitat, and the Journal of Performance and Mindfulness.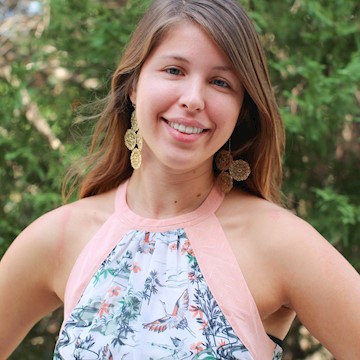 Amanda Sieradzki
Amanda Sieradzki (MFA) is the founder and artistic director of Poetica, a company that intersects contemporary dance, poetry, and community classes to bring movement and story together. As a local teaching artist, she instructs all ages and abilities and serves on dance faculty at the University of Tampa. Her technique and history courses follow Anne Green Gilbert's brain compatible pedagogies, and she directs the dance program's Evening of Experimental Dance. Amanda's choreographies bridge genres and have lived in traditional and alternative spaces at the Tampa's NewGrounds Festival, New Dance at the Decatur Arts Festival, the Atlanta Fringe Festival, Emory University's Schwartz Center for Performing Arts, among others. Her most recent iteration of fangirl & the liner notes premiered during a summer residency at Indy Convergence in Indianapolis. Amanda has been invited to present her research on interdisciplinary practices and pedagogy at the Popular Culture Association/American Culture Association, the National Dance Education Organization, and the Osher Lifelong Learning Institute. Presently, she is an arts journalist and contributor for Creative Pinellas' Arts Coast Journal, DIYdancer Magazine, ArtsATL, and the Tallahassee Council on Culture & Arts/The Tallahassee Democrat.