Giving Life to Movement: The Silvestre Dance Technique
Tamara Williams
McFarland, Incorporated, Publishers, 2020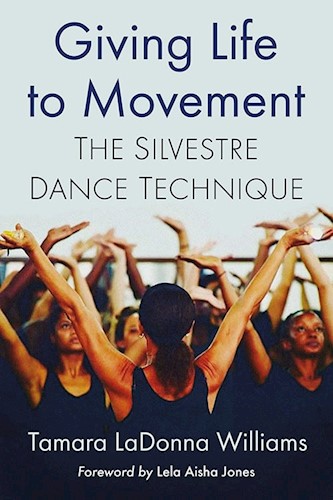 Giving Life to Movement is an intimately personal account of the rich journey of dance as a language, history, culture, and spiritual practice. Tamara Williams takes the reader through a comprehensive account of the Silvestre Dance Technique in all its multifaceted brilliance, while weaving in her own evolution as a professional dancer, student, practitioner, and soul in a human body. The ethnographic aspects of the technique are closely analyzed and reviewed in her cross-examination of the technique's various influences from the Transatlantic Slave Trade to the traditional chakra system. Williams is thorough, thoughtful, and deeply reverent in her reflections – she leaves no stone unturned when it comes to the cultural and historical contexts of the Silvestre Technique.
Perhaps it is her absolute devotion – spanning over a decade – that makes this text so potent and compelling. Not only is she able to track her own transformation from student to practitioner, but she has also been witness to the evolution of the technique itself and its steady expansion across the globe. Giving Life to Movement also functions as a practical manual of the technique's language, concepts, and sequences, crystallizing the arc of twenty years of pedagogy, empirical learning, immersive movement and ancestral remembrance onto the pages of her book. This text will undoubtedly be used as a foundational reference for years to come by teachers, students, and anyone interested in deepening their understanding of the history and deep roots of African diasporic dance forms.
Williams also dedicates a portion of the text to the self-actualization aspect of the technique. As she describes her own journey towards self-empowerment, the influence and depth of her practice become increasingly evident. Through her words, we witness the extraordinary potential each individual carries to embody strength, balance, intuition and power through the grace and expression of motion. Giving Life to Movement beautifully encapsulates the eternal journey of conscious embodiment through the practice of dance.