Kirsten Aguilar (JKL Collective)
Kirsten Vail Aguilar was born and raised in Sonoma, California. She graduated from Middlebury College where she studied African Studies with a focus on Film and Media Culture. Her writing has been published in Crazyhorse Journal, LDoc and the Boiler Journal, among others. 
Jermone Donte Beacham (Let 'im Move You: Intervention)
Dancing has been in my blood since I can remember. "Dance, when you're broken open. Dance, if you've torn the bandage off. Dance in the middle of the fighting. Dance in your blood. Dance when you're perfectly free", by Jalaluddin Rumi is a quote that has always guided me. This is what I do. It started off with hip hop dancing for my high school -- I began to recognize my skill and talent. After 4 years of that, I was introduced to the world of J-Setting by women. J-Sette historically refers to Jackson State University's female drill team that began in the 1970s. They "created" the dance style, and thus far have made it a distinctive form of dance. I was interested in this type of dance, but not entirely until I saw a group of males performing it. At that point, I claimed the style for myself and perfected it on my body. I began solo and eventually joined and initiated different groups. Currently, I have my own J-Sette line, Mystic Force (initiated in Jackson, MS, currently in Dallas, TX), and plan to increase our already considerable renown in this style of dance in our community, and eventually internationally. Previously, I served as co-captain of Dallas' Texas Teasers. I have participated and competed in several events and competitions, including 2 SetteItOff video challenges, Atlanta Pride 2010, Tennessee Classics 2009, and Memphis Pride 2008. In 2015, I was named New Legendary by the Meet Me on the Dance Floor J-Sette council, and have gained many titles since then, such as, Best Dancer and Most Entertaining. Since 2011, I have been involved as an artistic collaborator with contemporary choreographer, Jumatatu Poe, through Philadelphia's idiosynCrazy productions. Our studies have been relentless, yet very rewarding.
Jill Moshman (JKL Collective)
Jill Moshman is a dancer and choreographer from Tarrytown, New York. She studied Dance and Psychology at Middlebury College, before moving to Chicago where she is currently a dancer with dropshift dance. In addition to teaching dance, she continues to perform and create her own work. 
Jumatatu Poe (Let 'im Move You: Intervention)
I am a choreographer and performer based between Philadelphia and New York City who grew up dancing around the living room and at parties with my siblings and cousins. My early exposure to concert dance was through African dance and capoeira performances on California college campuses where my parents studied and worked, but I did not start formal dance training until college with Umfundalai, Kariamu Welsh's contemporary African dance technique. My work continues to be influenced by various sources, including my foundations in those living rooms and parties, my early technical training in contemporary African dance, my continued study of contemporary dance and performance, and my recent sociological research of and technical training in J-setting with Donte Beacham. I produce dance and performance work with idiosynCrazy productions, a company I founded in 2008 and now co-direct with Shannon Murphy. Since 2012, I have been engaged in a shared, multi-tiered performance practice with NYC-based dance artist Jesse Zaritt. Previously, I have danced with Marianela Boán, Silvana Cardell, Emmanuelle Hunyh, Tania Isaac, Kun- Yang Lin, C. Kemal Nance, Marissa Perel, Leah Stein, Keith Thompson, Kate Watson-Wallace, Reggie Wilson, and Kariamu Welsh (as a member of Kariamu & Company). As a performer, I also collaborate with Merián Soto. I am an Assistant Professor of Dance at Swarthmore College. 
My middle name is Mtafuta-Ukweli, which means "one who searches for the truth".
William Robinson (Let 'im Move You: Intervention)
William Robinson is from Washington D.C., Son to parents Patricia and Maurice Robinson Jr. He attended college at The University of the Arts, graduating in 2008. He is a current performer with idiosynCrazy productions, Brian Sanders' Junk, and Cardell Dance Theatre.
Alana Roth
Alana Roth has been drawing for her entire life. She studied drawing at The New York Studio School, The Art Students' League, The New York Academy of Art and on the subway, where she draws from life, with a very skinny pen. She earned a J.D. from Fordham University's School of Law. She practices law as a criminal defense attorney for The Legal Aid Society. Alana lives in The Bronx, NY.
Daniel Rothman
Daniel Rothman's music is performed and recorded by leading musicians in the US and abroad, and is frequently commissioned and produced by international centers and festivals, such as the Steirischer Herbst and the Zentrum für Kunst und Medientechnologie (ZKM).  His slowly transforming sound and light work Sense  Absence, in collaboration with visual artist Paul Tzanetopoulos, was installed in the Hans Otte Raum at the Weserberg Museum (Bremen, Germany), and collaborations with a variety of artists and writers, who include Jim Campbell and Yoko Tawada, have produced works for Los Angeles County Museum of Art and Südwestrundfunks Baden-Baden, among others.  His work has been recognized with a National Endowment for the Arts commission for the chamber opera Cézanne's Doubt, available on New World Records, and grants and awards include the Rockefeller and Argosy foundations.  For more than a decade he taught on the faculty at CalArts in music composition and Critical Studies, and held visiting appointments at Darmstadt Internationales Ferienkurse, Mills College and Callifornia College of the Arts.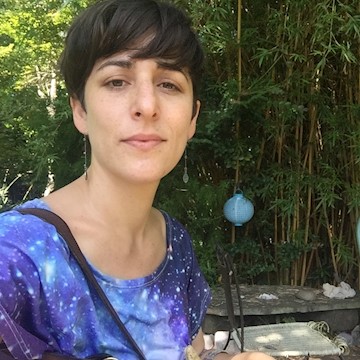 Hannah Schwadron
Hannah Schwadron is Assistant Professor of Dance at Florida State University, where she teaches courses in critical dance studies and choreography. This ongoing project in Hamburg, Germany reflects Schwadron's interests in her Jewish family history, as well as her research begun during MFA and PhD degree programs at the University of California, Riverside. Dance film Klasse (2015) won the Production Grant from Dance Film Association (NYC), and has been shown at the American Dance Festival (Durham and Boone, NC), Antimatter [Media Art] (Victoria, BC), the Tiny Dance Film Fest (SF), Israelitische Töchterschule (Hamburg), Third Coast Dance Film Festival (Houston), where it won the Spirit of the Festival award, and ScreenDance Miami, where it won the Audience Choice award.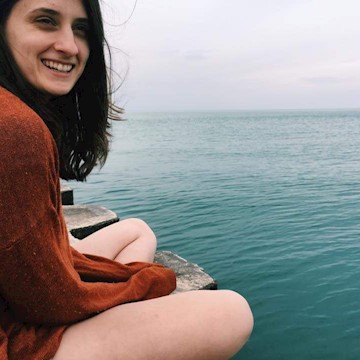 Lauren Zallo (JKL Collective)
Lauren Zallo is a visual artist and bookmaker from Sleepy Hollow, New York. She holds a BFA in Photography from the School of Visual Arts. She currently resides in Chicago, where she continues her practice in bookmaking with the Chicago Perch.