I have traveled to Hamburg, Germany three times over the last four years as a third- generation Jewish granddaughter of the Holocaust, invited to teach students and audiences about my family's story there through performance.  The first two times were chances to work closely with middle school students on the bravery of young people in times of war, and the possibility of dance as a means of accessing and enlivening lessons learned from the past.  This time was different.
This time, in May of 2016, the invitation to teach on the conditions of war through the words of my grandmother wouldn't stay put in the past tense.  This time, her words, recorded in the single retelling of her experiences at my Los Angeles synagogue in 1996, surfaced like a libretto for the present, carrying forward fragments of verbal and nonverbal conversation among a cast of current players.1   It is this shadow of the past finding new sharpness into the present which I want to talk about here. That and the courageous spirit of people today whose experiences give my family's history a current and critical new life.
In broken German, I recited to the group of Afghani men my grandmother's recollection of a world turned upside down: "When you don't know where you're going or what you're going to do." The line, translated first into German and next into Dari, seemed to hang in the room like the image of the net my grandmother described as growing tighter and tighter as time went on.  A moment of silence, and then, Wali Bakdash, Afghani TV personality began to speak. Other voices layered in. The Mediterranean Sea, the constant specter of death, the dangerous passages; they had all experienced similar horrors. Soon Arsalan Soltani, a café manager from Tehran, explained that he had rescued people from the ocean and described in pieces of three languages what he had witnessed.
With his arms and upper torso, he began to use gestures to retell the event of bringing the depleted bodies to land. Movement of the larger group began from that place, as others joined without pause. Two men grabbed the arms and legs of another participant, a German dancer I had met a few days before and invited to join for the workshop. They quickly drew her up off her seat to carry her limp body and place her figure onto the floor.  The planning in real time continued as soft muttering between more men as the group improvisation developed into a doctor's visit and an encounter with the police.  Soon an ensemble of five had formed as the rest of us watched with arrested breath. Movement happened quickly and without interruption, as others sitting by began to talk to the performers too, telling them in quiet undertones what to do next.
What to do when you don't know where you're going or what you are going to do?
Since last year, a surge in immigration has shifted the German landscape and the nature of my ongoing project there. The question of past exile has become an urgent question of the present, as a contemporary refugee crisis has grown increasingly dire across the world. As of November 2015, 1 million refugees and migrants arrived in Europe via illegal routes. Germany appears most welcoming of all, establishing policies of political asylum that, while generous, remain impossible to grant for the huge numbers in need.  Afghani refugees are especially present in Hamburg, where the city is now home to the largest population in Germany. 
Political refugees from Afghanistan flee their home country in search of safety and protection. The ethnic Hazara community has long suffered oppression and persecution there, where Al-Qaeda and the Taliban have been deadly threats since the 1990s.2 Between January and October of 2015, 124,000 Afghans requested asylum in Europe, according to the UN refugee agency. This is more than twice as many as in the previous year. Afghans are the second-largest group of asylum-seekers in Germany after Syrians, and the fastest growing. Most Afghans are traveling alongside Syrians via the Western Balkan and Eastern Mediterranean routes.3
Despite campaigns from the German embassy to dissuade further emigration based on the danger of travel and lack of sufficient resources upon arrival, there is little convincing incentive not to attempt the trip.4   Still, German chancellor, Angela Merkel's government hopes to discourage thousands of Afghans who may be on their way to Europe.5 Germany has agreed to continue offering asylum to those fleeing areas held by the Taliban or affected by fighting. But it wants to repatriate those who come from areas considered "safe", like the capital, Kabul. Unlike in Syria, large parts of Afghanistan that are under government control are considered relatively stable by Western governments. Already, almost 50 per cent of asylum claims from Afghans are rejected in Germany. Those who are turned down are not deported because of the uncertain security situation, but are allowed to remain in Germany in a legal limbo. Now the German government wants the EU to negotiate a repatriation agreement with Afghanistan so they can be safely returned.6
Today, without papers or the ability to work, these men I met, like too many refugees, are left with nothing to do and no clear future. They crave engagement on top of basic needs. They learn German through government-sponsored programs, and wait for the possibility of recognized status and political integration.  I had the good fortune of joining one such German language class designated for refugees, and spent a week laughing at our awkwardness as we learned a few key exchanges.  "Was machst du gern?" "Wie geht es Dir?" We went to the farmer's market and had to ask for "fünf grüne Gemüsesorten," and the name of eight varieties of Kartoffel. We thought it was funny when all the potatoes had women's names. We asked where the bananas came from and kept a log of the produce grown in Germany.
The idea of working with this group was clear for me from the start, being that the language classes for refugees were held in the same school my grandmother had attended before WWII; the same place I had worked in two previous trips to Hamburg. The forced movement of Jews out of that very building was now the site of new beginnings, and the questions of statelessness and refugeeism linked the past and present with stunning parallels. After three language classes together, teacher Julia Freienberg allowed me to use the bit of acquired German words to piece together an invitation. "Would anyone wish to join me for a movement workshop on Saturday on the subject of refugee life in Hamburg today?" Nearly all twenty-five classmates raised their hands.  
What began as graduate dance thesis research at the University of California, Riverside became a choreographic reflection on what I was calling a movement of memory. In 2009 and in partial fulfillment of my MFA degree, I presented an hour-long dance theater work recalling my grandmother's story from Hamburg to Shanghai and finally to the United States. I used the verbatim text of her recorded account as my spoken narration, and the events that transpired as the chronological sequencing of my concert material.   Entitled "Love on Mars: Meine Liebe Ursel," the piece moved between solo and ensemble enactments of a young girl's journey through war, and my own absurdist additions of space travel to Mars in search of love.
At the time, the juxtaposition made good sense. Flippers, a mail box, an inflatable boat, tinker toys, a motorized car, a plastic frog and vintage suitcase propped my world of remembering and sci-fi projections into the future, while the cast of ten dancers made way among serious and comedic subject matter. The piece told two stories at once, hers and in a curious way my own, and in its doubling of past and uncertain future, laid groundwork for a choreographic connection across distinct time periods. The piece turned to something as abstract as life and love on Mars to frame the past as if to ask, why return to this story now? And how?
In 2012, I received an invitation to bring the show to Hamburg through the support of cultural grants associated with the citywide Stones of Remembrance holocaust memorial project.7 I worked with school teacher, Inge Mandos to translate the talking parts to German, and to create a curriculum for middle schoolers to study the story before I came. After a week of movement development with students at the Ida Ehre Schule, I incorporated the twenty-five twelve year olds into the concert, adding new ensemble sections to my solo version of the performance.  In that iteration, students recited together a letter exchange from 1938 written between my grandmother and her friend Miriam who had just that year left on the Kindertransport. "My Dear Miriam," it begins, " You cannot be angry with me for not having written you at an earlier date. Things are so completely crazy here. We cannot think clearly. Everyday someone else leaves."8
The chorus of young voices reciting this letter precipitated the next development of the project, as I soon discovered an entire collection of letters written that year between classmates. Having been gathered in recent years by families of survivors in the archives at the Yad Vashem Holocaust museum in Jerusalem, copies were now on permanent display at the Israelitische Töchterschule Jewish memorial site in the old Jewish district of Hamburg.9 The third floor of the building housed a gallery and historical classroom, and in a glass case, I found also an original book of short poems written by my grandmother and her friends.  These materials were the inspiration for my continued development of the project, which manifested in the production of a dance film and live performances with students two years later.
This nine-minute dance film Klasse tracks back to the winter of 1938 in the Jewish classroom at the Israelitische Töchterschule, which was kept just as it was during the war. In it, dancing among old desks gives way to sudden empty chairs as classmates disappear one by one, and an intimate cast of middle school students brings to life excerpts of letters written between friends. Directed by Malia Bruker and choreographed by myself in collaboration with the cast of eight twelve-year-olds and three professional dancers, the film speaks of the power of young friendships strained by uncertain times. Working with students to imagine what it is like to have to be strong in the face of fear returned to my grandmother's feeling that "Children were acting like adults and adults were acting very childishly."10
This past Spring, when Bruker and I were invited to screen the film as part of the month of remembrance programming, I came with the strong sense that the project now lived with those seeking refuge in Hamburg today. My grandmother's words could take shape in movement meant to evoke the experiences of people forced not to leave Hamburg, but to come. Indeed, the project finds its home in the discourse on art and activism, based on the premise that politics and art can join hands in actions that draw attention to the drama of migration.
Still, the question of how to attend to and draw attention to the topic in meaningful ways is one of public action and what German author, Natalie Göltenboth calls, "Beautiful Politics" of "the highest form". In her words, posted on the Goethe Institute website in December 2015, "The urgent question of the refugee issue has become the theme of a new socially engaged and participatory art that is no longer concerned with re-presentations of reality. Instead, the public and society themselves are the materials of artistic actions, blurring the boundaries between activism, political action and works of art."11 Following Göltenboth's lead, I realize it is through the blurring of art and action that our shared improvisation practice can mobilize participants as incisive social actors with a large part to play in dance as politics.
The premise of the dancer-citizen as the public artist helps make sense of the power of performance as a means of telling and sharing stories. It also offers a framework for explaining why people, from entirely different positions and locations, would want to work together in and through movement as a mode of exchange and mutual support. In the case of Afghani workshop participants, the notion of the dancer-citizen creates possibility for access and recognition that the state cannot provide.
Statelessly, the group of refugee dancer-citizens occupied space through a kind of mobility otherwise not afforded them, creating a way to be seen and felt in community.
Entangled in questions of statehood through movement exercises designed for small groups of two and three, we improvised ways of moving and being moved, seeing and being seen. Simple cues in limited German acted like small prompts with big implications. Ziehen/widerstehen (Pull/Resist): We started by sharing weight with a partner, using the concepts of counterbalance and resistance to pull away and push into slowly shifting points of contact.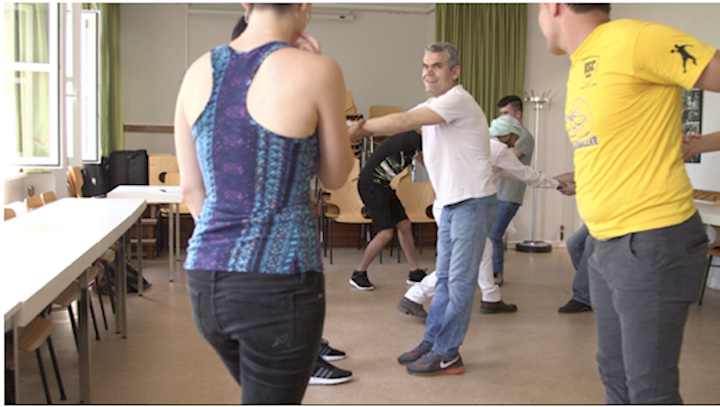 Zusammen/Auseinander (Together/Apart): Pairs found pathways towards and away from each other, this time without touching, first one couple at a time, and then, as a whole group moving on tracks.
Stehen, Sitzen, Liegen (Stand up, Sit Down, Lie Down): In threes, groupmates responded to constantly changing vantage points while managing to upkeep three distinct roles.
Bleiben (Stay): Partners stayed together and no matter what, allowing moments of uncertainty to linger in the present circumstance long enough to notice what might be possible without rushing through the next set of movements.  Helfen/Nicht Helfen (Help/Don't Help): The most literal of exercises, partners created on the spot dramas of contact and release that either aimed to help each other or fully not.
Finally, plugging devices into speakers, we danced to Afghani music, Iranian songs, Tangos and American pop. We celebrated and ate together, breaking to hear stories of the last difficult years.
For the length of an intensive afternoon workshop, we envisioned empowering alternatives to the paralyzing limitations of new immigrant conditions. Partner improvisations lent themselves to interpersonal enactments of larger political dynamics. Moreover, by staging them through movement, participants found it possible to introduce themselves and their experiences to me, one another, and the few others invited to participate and help translate, beyond the need for words. Several men noted as much in the final comments after the class. One comment, by recent high school graduate, Barat Mohammadi and translated by participant and former psychology teacher, Sakhi Poyah stands out especially. "Sometimes we can say by our speech that we have this problem, or we can show something by speaking. But in here... I can show something, what is happening in my heart. Without speaking, it is the first step that I can easily do for other person with my gesture." Working together in this way offered opportunity to connect in an atmosphere of collaboration and openness.  Many in the group described feeling much better after the workshop, and the sense of now knowing at least one thing to do.
For me, the dancer-citizen poses an important call for ideological and artistic commitment, but also a necessary challenge to the systemic exclusions of national statehood as well. Even this aspect of the project dials back in time. During the phases of this research last year, my father Terry Schwadron applied for naturalization in Germany on the premise of our family ties. Under the provision of German Basic Law, it stipulates that those, who were deprived of German citizenship on political, racial or religious grounds between January 30th, 1933 and May 8th, 1945 have a claim for naturalization (restoration) of German citizenship.  The same applies to their descendants, who would have obtained German citizenship through them.
The application was denied on the premise that it was my father's mother and not his father that was of German origin. National law honored only patriarchal lineage. My father replied with a second letter, informing the contact at the consulate that this was "patently anti-woman" and "at odds with the values of a country that proudly has Angela Merkel as Chancellor."12   Explaining once again the reasons for expulsion, my dad added, "Ironically, of course, Jewish law recognizes identification inheritance through matriarchal lines rather than through the father's side."
For our family who lives and works freely in the US, the rejection of a dual citizenship and in this way is not cause for too much upheaval. My siblings and I travel to Germany for teaching and performance engagements of various kinds, and would likely live there if possible, let alone work on cultural projects germane to national history. But this is far from an issue of necessity, and our denied status is more evidence of the odd and partial designations of citizenship and belonging.
For refugees making home in Hamburg, however, the tension around status remains intolerable. Tanzen (dancing) becomes a way to move among restrictions, as shared experiences across history offer mechanisms for feeling seen and being heard. To think of our work that afternoon through the lens of the dancer-citizen is to imagine modes of expression outside of statehood, and in spite of it.  In the words of Mahdi Nagisade, himself a political refugee from Iran and a human rights activist who helped translate for the workshop,  "It brought up feelings of those people who are ready to give anything they have, even their lives to get to freedom and peace!"
---
Ursula Schwadron, Audio Recording of Live Talk, Temple Isaiah, Los Angeles, CA, 1996. back to text
Begun in 1992 in cities across Europe, the Stones of Remembrance, or Steine de Erinnerung project is named after the holocaust memorial stones created by Cologne artist Gunter Demnig in honor of Nazi victims and installed in the cobblestone entrances to old Jewish homes. back to text
Ursel Lievendag, Letter to Miriam Friedfertig in Zbaszyn, Poland from Hamburg, Germany, December 13, 1938. Original letter located in holocaust museum Yad Vashem, Jerusalem. Copy displayed at the Israelitische Töchterschule, Hamburg, Germany. back to text
Gallery director Erika Hirsch was instrumental in helping to organize the production of dance film Klasse and live performances in the historical classroom in May 2015, and a dance workshop with Afghan refugees in May 2016. back to text
Terry Schwadron, email message to German consulate, August 15, 2015. back to text
Göltenboth, Natalie. "'Beautiful Politics': The Highest Form of Art," The Goethe Institute.  Translated by Edith Watts. December 2015. Accessed June 10, 2015. "https://www.goethe.de/ins/af/en/kul/mag/20675312.html. 
Huggler, Justin. "Germany to start sending back migrants from Afghanistan, according to reports" The Telegraph. 26 October 2015. http://www.telegraph.co.uk/news/worldnews/europe/germany/11956007/Germany-to-start-sending-back-migrants-from-Afghanistan-according-to-reports.html.
Lievendag, Ursel. Letter to Miriam Friedfertig in Zbaszyn, Poland from Hamburg, Germany, December 13, 1938. 
Qazi, Shareena. "Germany to Refugees: Leaving Afghanistan? Think Again," Al Jazeera. 24 November 2015.  Accessed June 2, 2016.  http://www.aljazeera.com/news/2015/11/germany-campaign-refugees-leaving-afghanistan-151124131156428.html. 
Schwadron, Terry, email message to German consulate, August 15, 2015.
Schwadron, Ursula. Live Talk, [Audio Recording, 90 min] Temple Isaiah, Los Angeles, CA, 1996. 
Weston, Phoebe. "Mapped: How the way migrants come to Europe has changed in 10 years" The Telegraph. 30 September 2015. Accessed 10 June 2016. http://www.telegraph.co.uk/news/worldnews/europe/11890892/Mapped-How-the-way-migrants-come-to-Europe-has-changed-in-the-10-years.html.